Jared Leto ed il video contro Taylor Swift: ecco com'è finita…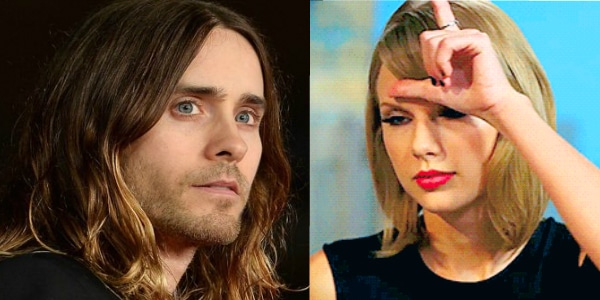 Taylor Swift è senza dubbio un personaggio capace di dividere come non mai le opinioni della gente, anche e specialmente dei suoi colleghi. Se ormai il rapporto d'odio che la lega alla famiglia West-Kardashian è cosa nota e non fa più scalpore (QUI l'ultimo discutibile gesto del rapper), non è raro sentire altre celebrities parlare in maniera non troppo positiva della popstar. Tante stars si erano schierate, anche inaspettatamente, "contro" di lei quando uscì il caos per il video di Kim Kardashian un paio di mesi fa; addirittura Matt Healy, leader dei 1975 e suo amico, l'ha recentemente sbeffeggiata (QUI per saperne di più).
Prima di tutto ciò era stato un altro artista a scatenare un putiferio per un commento poco carino nei confronti di Taylor e nello specifico del suo album 1989. Si tratta del frontman dei 30 Seconds to Mars nonché apprezzato attore Jared Leto, registrato mentre parlava della collega in questi termini:
"Che vada a fa***lo. Non mi frega un c***o di lei. Qualsiasi cosa è meglio"
Presa di posizione decisa e poco galante che il sito TMZ pubblicò, a detta di Leto, senza il suo consenso. L'artista a seguito del fatto si è scusato pubblicamente con la Swift, provando ad indorare la pillola dicendo di apprezzare molto la sua musica. Fece partire anche una denuncia nei confronti di TMZ per violazione della privacy, il cui responso è stato reso noto proprio in queste ore.
Il giudice ha stabilito che Jared Leto non ha diritto ad alcun risarcimento in quanto il video incriminato non era di sua proprietà ma di proprietà di colui che l'ha girato in presenza del diretto interessato, decidendo poi di sua spontanea volontà di mandarlo a TMZ. Il leader dei 30 Seconds to Mars ha dunque perso la causa; si conclude così una questione che tanto fece discutere l'anno scorso e che vede per l'ennesima volta Taylor Swift protagonista indiretta.