Da Katy Perry a Lady Gaga: 5 video musicali ispirati a dei film
Quando un video musicale prende ispirazione dal Cinema! Ecco 5 video ispirati a dei film.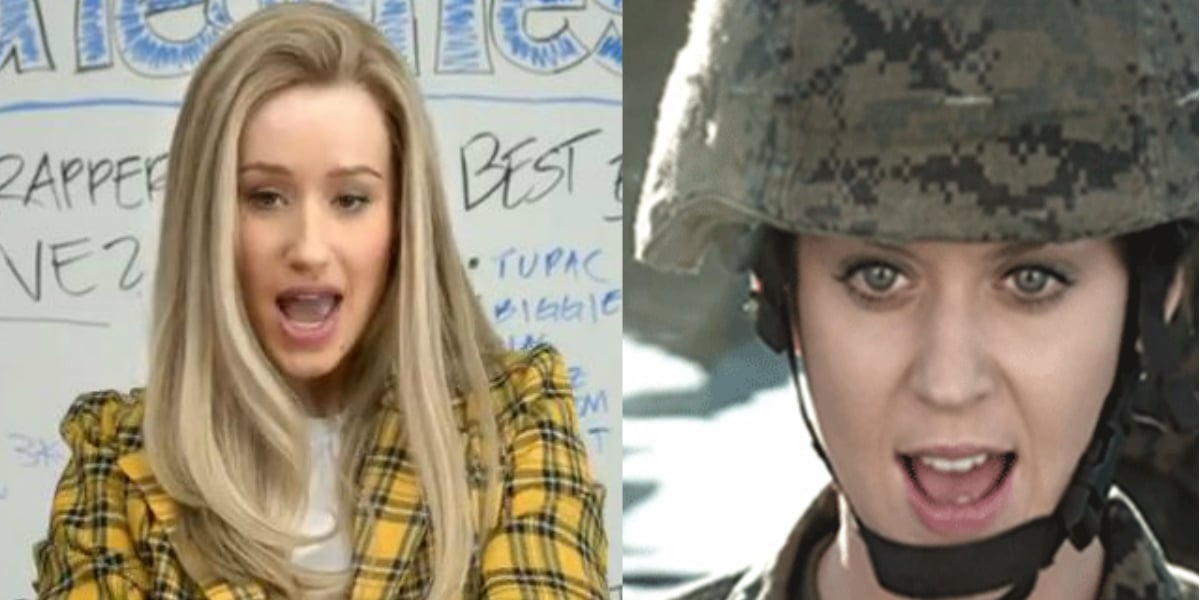 I video musicali sono una parte molto importante per il lancio promozionale ed il successo di una canzone; lo sono specialmente dal 1981, ovvero da quando, con la nascita di MTV (in primis), sono diventati un prodotto mainstream.
Anche se negli ultimi anni con l'avvento dello streaming e di altre piattaforme musicali i videoclip sono stati messi, per così dire, in secondo piano, è innegabile che ci siano ancora molti artisti che si lasciano coinvolgere con trasporto nella realizzazione di essi, cercando di creare assieme al registra un filmato valevole dal punto di vista artistico e unico del suo genere; in poche parole un video musicale riconoscibile e d'impatto.
Che ultimamente ci sia una carenza di videoclip veramente, veramente belli è un dato di fatto, ma oggi non siamo qui per parlare della riuscita o meno di questi mini-film e/o della loro unicità, vogliamo invece proporre qualche esempio di video musicali che si ispirano a grandi kolossal e/o pellicole che hanno segnato la storia del cinema, per motivi differenti.
Il caso più evidente in tal senso arriva dal Re del Pop Michael Jackson e dal suo cortometraggio (odiava la parola "video") girato per la super-hit Thriller.
Michael era rimasto stregato dal film Un lupo mannaro americano a Londra del regista John Landis, a tal punto che volle assolutamente che Landis si occupasse anche di Thriller. Ne esce nel 1982 un cortometraggio liberamente e chiaramente basato sulla pellicola horror dell'anno precedente e su gran parte degli horror a tema zombie, nonché un'opera iconica che ancora oggi è considerata uno dei precursori del genere.
Altrettanto iconica è l'interpretazione di Madonna nel videoclip di Material Girl, celebre hit dell'85.
Nel video Madonna rende omaggio alla grande Marilyn Monroe, reinterpretando il suo ruolo nella famosa scena del film Gli uomini preferiscono le bionde, dove la diva si esibisce con Diamonds Are a Girl's Best Friend.
Questi del Re e della Regina del pop sono i due esempi più evidenti e conosciuti attraverso i quali abbiamo scelto di introdurre le nostre 5 scelte, pescate però dalla videografia degli ultimi 20 anni.
Ecco da quali film hanno tratto ispirazione i seguenti artisti:
FANCY – IGGY AZALEA (feat. Charli XCX)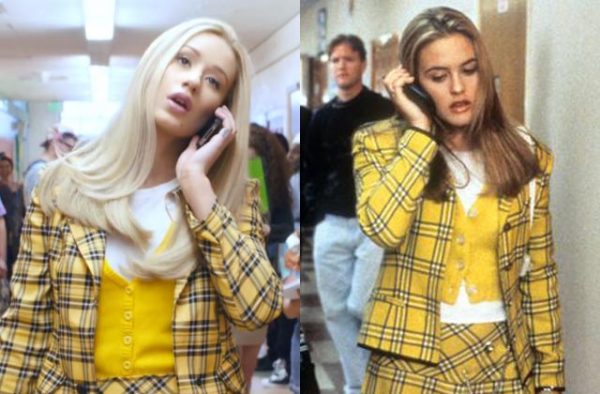 Se dovessimo scegliere, il riconoscimento di regina dei tributi cinematografici andrebbe senza dubbio sulla rapper australiana Iggy Azalea.
Non c'è videoclip in cui la femcee non abbia reso omaggio ad una pellicola cinematografica, da quelle più iconiche ad altre decisamente più "leggere", a dimostrazione che, come lei stessa ha spesso ribadito nelle interviste, è una grande appassionata di cinema.
In Change Your Life sono chiari i riferimenti a ben 3 lungometraggi, Casinò, Blade Runner e Showgirls; Black Widow è un evidente omaggio a Kill Bill di Quentin Tarantino mentre la più recente Pretty Girls, con Britney Spears, si rifà alla commedia degli anni '80 Le ragazze sulla Terra sono facili.
C'è poi il video clip del suo singolo di maggior successo, Fancy, il quale si può considerare un vero e proprio remake di un film cult tra i teenager americani degli anni '90, Clueless, tant'è vero che è stato girato nella stessa scuola superiore, la Grant High School di Los Angeles.
Aldilà della location, non è difficile notare i numerosi riferimenti, dagli eccentrici abiti che Iggy indossa simili a quelli della protagonista di Clueless a piccoli accorgimenti che certamente non passano inosservati ai più attenti, come una penna con un pon pon rosa fluo.
Vi lasciamo al videoclip di Fancy, nella speranza che Iggy continui per questa strada anche con i video che accompagneranno i singoli della nuova era.
SPICE UP YOUR LIFE – SPICE GIRLS
Proseguiamo con un video della girlband per eccellenza, gruppo femminile che ha segnato l'immaginario collettivo degli anni '90: le Spice Girls.
Emma, Geri, Mel B, Mel C e Victoria, a partire dal lancio del loro singolo Wannabe nel 1996, sono diventate un vero e proprio fenomeno internazionale, alla pari dei loro equivalenti maschili, i Backstreet Boys.
Un successo che purtroppo è durato poco visto che già nel 2001 è avvenuto il loro primo scioglimento, ma ciò non toglie che, ancora oggi, rappresentino la girl band più famosa e di successo della storia.
Detto questo anche nella loro videografia non manca un prodotto che contiene un riferimento al mondo del cinema. Il video in questione è quello di Spice Up Your Life, lead single del loro secondo album, Spiceworld.
Il pezzo, un'uptempo latin-pop con chiari richiami al ritmo del samba, è accompagnato da un video che a primo acchito ha poco a che vedere con il sound, in quanto ambientato in un buio contesto futuristico.
Il regista Marcus Nispel decise infatti di girare il cortometraggio basandosi esplicitamente alla celebre pellicola di Ridley Scott, Blade Runner, tra navicelle spaziali e città post-apocalittiche.
Troviamo le 5 ragazze all'interno di un futuristico mezzo mentre sono occupate a vagare per una New York semi-fantasma che vede in loro quasi delle "salvatrici/dominatrici". Il messaggio di Spice Up Your Life è quello di provare a rendere più esaltanti le proprie vite, mettendo un po' di pepe in ciò che si fa.
Nonostante il video sia uno dei più costosi di sempre, le stesse Spice (a detta di Mel B) non erano per niente contente della scelta del regista, in quanto si aspettavano qualcosa di ben più colorato e vivace più in linea con il messaggio ed il ritmo della canzone.
Nell'attesa di capire finalmente se il loro chiacchierato comeback prenderà vita, rivediamo il video di Spice Up Your Life:
PART OF ME – KATY PERRY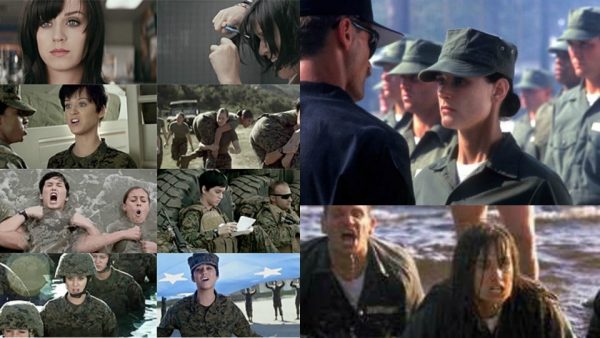 Tra le popstar di oggi, una di quelle che certamente ha sempre dato molta importanza ai video musicali che accompagnavano i suoi singoli è senza dubbio Katy Perry.
Pensiamo alle più leggere e divertenti California Gurls o Roar, alle più impegnate The One That Got Away o Wide Awake, fino ad arrivare a video dall'alto budget quali E.T. o Dark Horse.
Katy nel corso della sua carriera ha offerto ai fans una videografia di tutto rispetto e, ad oggi, è una delle artiste donne con il maggior numero di visualizzazioni su YouTube. Pensiamo ad esempio che Dark Horse è il secondo videoclip della storia ad aver raggiunto un miliardo di visualizzazioni su Vevo, primo in assoluto di una cantante donna.
Tra i suoi numerosi cortometraggi ce n'è uno in particolare che richiama, non troppo lontanamente, le vicende di un film del 1997 di Ridley Scott, G.I. Jane, conosciuto in Italia con il titolo Soldato Jane.
La pellicola racconta la storia di un tenente donna della Marina militare (Demi Moore) che viene scelta per portare a termine un duro addestramento speciale, durante il quale si scontra con i suoi superiori che la trattano diversamente in quanto donna e quindi considerata più debole.
Forse leggendo queste poche righe di riassunto avrete già avuto modo di collegarle ad un video della Perry le cui vicende possono ricondurre alla trama di G.I. Jane. Ovviamente si tratta di Part Of Me, primo singolo estratto dalla ri-edizione di Teenage Dream.
In Part Of Me Katy, delusa dal suo fidanzato, decide di arruolarsi nei Marine…non prima di rasarsi i capelli, in una scena molto simile a quella che interpreta Demi Moore per il suo personaggio.
Partono poi vari momenti che mostrano il duro addestramento all'interno della base militare Camp Pendleton ad Oceanside, scene che la cantante ha girato a seguito di una rigorosa preparazione fisica.
Molti giornali a suo tempo fecero notare le similitudini con l'immagine della donna forte e determinata che emerge in Soldato Jane e, anche se ufficialmente Katy non ha mai confermato la cosa, è evidente che il suo video prenda quanto meno ispirazione dalla pellicola di Scott.
I'M GLAD – JENNIFER LOPEZ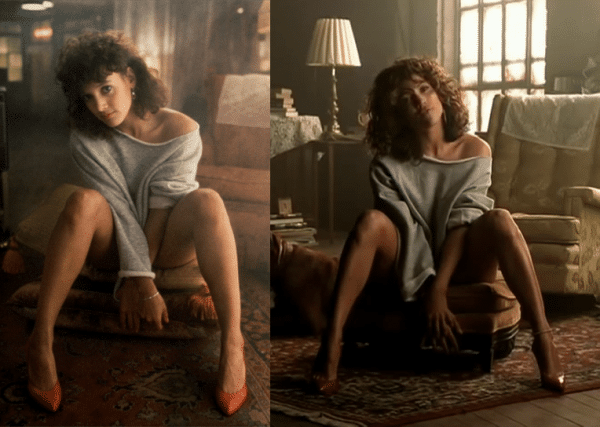 Quando si tratta di video musicali neanche Jennifer Lopez scherza! La sua videografia contiene ottimi video nei quali prevalentemente emerge la sua grande abilità di ballerina, abbinata ovviamente al fattore sensualità, che non può mancare se si sta parlando di J-Lo.
Nei suoi videoclip Jennifer si è cimentata in coreografia più o meno note, come il balletto accompagnato dal bastone nel video di Get Right o la danza che prende quasi le sembianze di una lotta nel grintoso video di Do It Well.
Jennifer è una delle poche artiste che riesce a cimentarsi in maniera ottima nel canto, nel ballo e nella recitazione.
C'è un brano dei suoi che più di ogni altro conferma questa sua poliedricità: I'm Glad.
I'm Glad è il terzo singolo estratto da This Is Me… Then del 2002, terzo album in studio della Lopez.
Per girare la clip del pezzo J-Lo chiama niente meno che David LaChapelle, fotografo e regista super amato e cercato dalle star dello showbiz.
Insieme i due hanno dato vita ad un intenso cortometraggio chiaramente ispirato ad uno dei film musicali più celebri di sempre, Flashdance, un vero e proprio omaggio.
J-Lo reinterpreta il ruolo che nella pellicola fu di Jennifer Beals e lo fa riproducendo con grande precisione numerose scene (memorabile quella del provino) facendo attenzione alle location, ai vestiti e anche alle inquadrature.
Una precisione tale che portò addirittura la casa cinematografica detentrice dei diritti di Flashdance a citare in giudizio la Sony Music, per motivi di copyright.
Alidlà dei bisticci legale tra le case (la Sony perse la causa e dovette pagare una multa), è innegabile che il video di I'm Glad fosse nato fin dal principio come tributo alla pellicola del 1983, anche perché le somiglianze sono davvero troppo palesi per pensare di farlo passare come idea originale.
Ricordiamo insieme l'intenso video che accompagna I'm Glad:
TELEPHONE – LADY GAGA (FEAT. BEYONCE')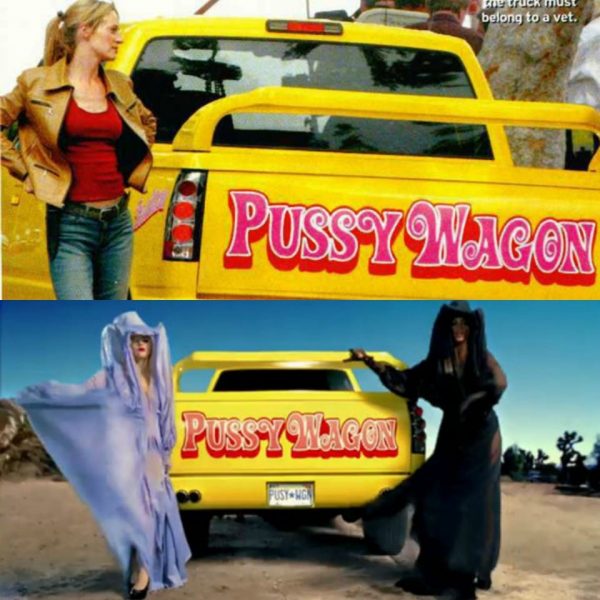 Finiamo in bellezza con una delle collaborazioni più riuscite dell'ultimo decennio, una canzone eseguita da due forzi della natura quali Lady Gaga e Beyoncé.
Si tratta di Telephone, secondo singolo estratto da The Fame Monster, secondo album della cantante di Poker Face.
Neanche a dirlo Telephone si rivela un successo strepitoso e diventa uno dei brani più venduti dal 2010.
Per girare un video musicale all'altezza della situazione Gaga chiama Jonas Akerlund, che già aveva lavorato con lei per il chiacchierato e controverso video di Paparazzi.
Nasce un cortometraggio in salsa thriller/action della durata di 9:34 min, un vero e proprio mini-film incoronato da Billboard come il miglior video musicale del 2010.
Telephone comincia con Miss Germanotta in carcere che, dopo alcune peripezie, viene liberata.
Ad attenderla fuori dalla prigione c'è Beyoncé al volante di una eccentrica auto gialla che più avanti si rivelerà essere la stessa auto che Uma Thurman guidava in Kill Bill vol.1, chiamata Pussy Wagon.
Le due menti criminali finiscono in una locanda, nella quale avvelenano gran parte dei commensali per poi riprendere in mano l'auto e fuggire, mentre in sottofondo si sentono chiaramente le sirene della polizia e l'elicottero, ormai alle loro costole.
Nella scena finale le due fuggiasche promettono che, nonostante tutto, non torneranno mai indietro.
E' proprio questa scena a richiamare, dopo Kill Bill, un altro iconico film del 1991, Thelma & Louise, dove due amiche finiscono per diventare due improbabili assassine ricercate in tutto il territorio americano e, rifiutandosi di finire in prigione, scappano fino all'ultimo, arrivando a prendere l'estrema decisione di lanciarsi con l'auto giù da un canyon pur di rimanere unite e libere.
Il riferimento del finale di Telephone a Thelma & Louise è chiaro, anche per via di una polaroid che Gaga scatta e lascia lungo la strada, stesso gesto presente nella pellicola.

Siamo sicuri che tutti avrete ben impresso il video di Telephone, in caso contrario eccolo qui:
Eravate a conoscenza di tutti i tributi presenti in questi video musicali? Avete in mente altri esempi?