Katy Perry sposta la data d'inizio del Witness Tour !
Brutte notizie in arrivo per i fan di Katy Perry! 
La nota popstar di The One That Got Away, ormai pronta alla conduzione dei prossimi Video Music Awards del 27 agosto (scopri di più QUI) è da più di due mesi tornata sulle scene musicali con il suo nuovo album in studio Witness, lavoro che, nonostante sia stato meno fortunato rispetto ai precedenti in termini di vendite e di singoli estratti, Katy ha voluto associare al suo nuovo tour mondiale, confermato già dallo scorso mese di maggio. In questi giorni, però, sono arrivate delle notizie non positive in merito al Witness: The Tour che lasceranno i fan a bocca asciutta.
La nuova attesissima serie di concerti della Perry (che la porterà anche in Italia il 2 giugno 2018 all'Unipol Arena di Bologna), infatti, aveva una data di apertura prevista per il prossimo 7 settembre da Columbus, ma la popstar stessa ha rivelato, in un post del suo profilo Instagram di poche ore fa, di aver dovuto spostare la data d'inizio al prossimo 19 settembre per via di ritardi della produzione. Stando a quello che Katy ha confermato: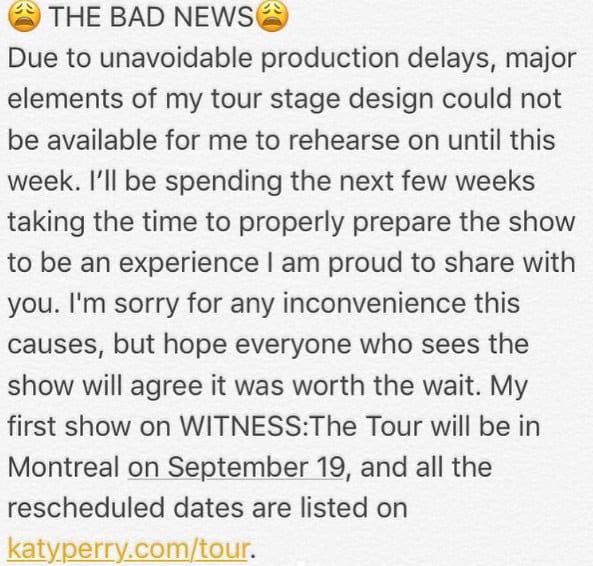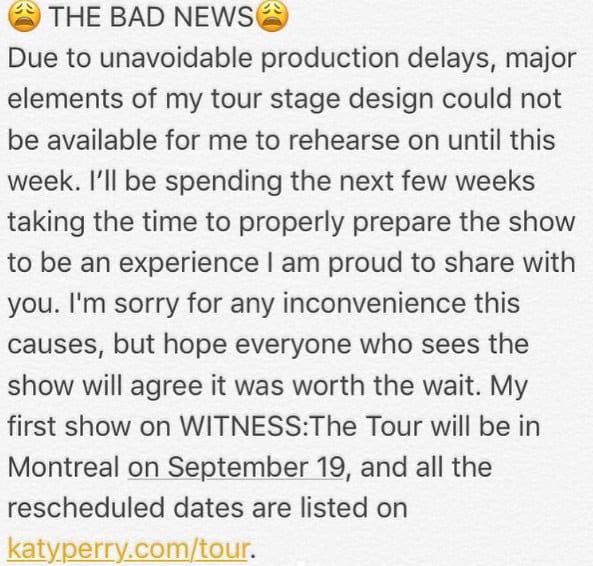 "A causa di inevitabili ritardi di produzione, la maggior parte degli elementi che comporranno il palcoscenico del tour non potranno essere disponibili per le prove fino a questa settimana. Trascorrerò le poche settimane che verranno prendendomi il tempo per preparare al meglio lo spettacolo, voglio che sia un'esperienza che io sia orgogliosa di condividere con voi. mi dispiace per i disagi che comporterà, ma spero che tutti quelli che vedranno lo show siano d'accordo sul fatto che l'attesa verrà ripagata. il mio primo spettacolo del 'Witness: The Tour' sarà a Montreal il 19 settembre, tutte le date spostate sono segnalate su KatyPerry.com/tour".
Insieme a quest'annuncio Katy ha inoltre confermato gli artisti che si esibiranno nell'opening act delle date americane: i cantanti in questione saranno Noah Cyrus (che accompagnerà la popstar dal 19 settembre al 1° novembre), i Purity Ring (attesi dal 7 novembre al 20 dicembre) e Carly Rae Jepsen (che seguirà Katy in tour dal 5 gennaio al 5 febbraio).
Cosa pensate di questa notizia?