Kesha – Rainbow (Recensione CD)
Kesha é tornata! Ecco la recensione track by track del nuovo attesissimo disco "Rainbow"!
È finalmente arrivato sulla scena pop uno dei più grandi comeback del 2017, atteso da anni dopo molti ostacoli.
A quasi 5 anni infatti dallo sfortunato e sottovalutato Warrior, Kesha (questa volta senza il simbolo del dollaro) torna sotto i riflettori e lo fa con stile: spogliatasi degli orpelli elettro-dub che fu costretta ad indossare nel suo secondo lavoro discografico (nonostante le dichiarazioni di voler creare un album dal sound pop-rock) si mostra nuda e piacevolmente stramba (come nella sua psichedelica copertina), tirando fuori gli artigli e il talento.
In questo lungo periodo, come ben sappiamo, molte cose sono accadute: dopo il prorompente successo del debut album Animal, trainato dalla smash hit Tik Tok, la allora venticinquenne decise di cambiare rotta per il suo secondo album, rendendolo più rock e meno EDM, ma il suo produttore Dr. Luke s'impose sul progetto, creando una copia carbone del precedente (scartando brani come Machine Gun Love e relegando le splendide ballate rock nella deluxe), facendolo fallire inevitabilmente. Durante il Warrior Tour, Kesha finì in rehab per anoressia e bulimia e ci rimase per molti mesi, prima di accusare pubblicamente il suo producer di abuso sessuale e psicologico.
Questa vicenda legale, ancora adesso non risolta, non ha permesso alla cantante di rilasciare alcun album in questi anni, fino al licenziamento di Dr. Luke da parte della Sony. Diventando executive producer del suo progetto, Kesha ha potuto finalmente avere il totale controllo sulla sua musica, portando a termine uno degli album più sensazionali del 2017. Iniziamo la nostra recensione track by track, godendoci al meglio tutte le sfumature arcobaleno di questo lavoro.
Bastards
Dopo gli anni di sofferenza e depressione, Kesha si rialza e tira fuori il suo dolore e lo fa con l'emozionante Bastards. Nonostante il titolo preannunciasse un pezzo energico, Bastards è un brano acustico, intimo e quasi infantile nella sua semplicità. Accompagnata dalla sola chitarra, Kesha mostra fiera il suo manifesto d'intenti, il mantra che l'ha portata a poter superare le sue avversità: nonostante la tua vita sia stata rovinata da gente che ti ha fatto piangere e dubitare delle tue capacità, alzati, asciuga le tue lacrime e continua a vivere credendo in te stesso
Don't let the bastards take you down / Don't let the assholes wear you out
Presentandosi come uno dei molti brani di self-empowerment presenti in Rainbow, Bastards nei primi minuti puo' sembrare quasi monotona (a causa del sound dolce ed intimo), ma muta la sua natura grazie ad uno splendido coro in stile Ehi Jude sorretto da percussioni e riff di chitarre elettriche in background che donano il carattere giusto al brano. Bastards è sicuramente un inizio sensazionale per l'album ed è il frutto dell'esperienza della cantante (sono espliciti infatti i rimandi alla sua vicenda legale contro il suo ex produttore) e noi non possiamo fare altro che esclamare: Bentornata Miss Kesha Rose, ci sei mancata! Voto 4/5.
Let 'Em Talk (feat. Eagles Of Death Metal)
Cambio radicale di stile per questa seconda traccia in collaborazione con gli Eagles Of Death Metal: con Let 'Em Talk Kesha ci riporta negli anni '80, decennio in cui le band femminili come le Bangles e le 4 Non Blondes si facevano strada a colpi di rock 'nd roll, creando un brano energico e scanzonato tutto da ballare. Introdotto da un riff squarciante e sorretto da chitarre elettriche e batteria, Let 'Em Talk è ancora un altro inno al fregarsene delle opinioni degli haters e al credere nelle proprie capacità. Munito di uno dei ritornelli più potenti dell'intero progetto
Shake that ass/ Don't care if they talk about it/ Fuck all the haters/ Just forget about 'em
il brano mostra finalmente la Kesha matta e menefreghista di un tempo, in grado di poter finalmente comporre la musica che da sempre desiderava comporre. La prima collaborazione con gli Eagles sicuramente funziona grazie al feeling creatosi con il frontman Jesse Hughes, che raggiunge l'acme nel bellissimo bridge finale in cui le due voci si armonizzano alla perfezione (non troverete un altro brano in cui la frase "Suck my d*ck" è cantata così bene!). Voto 5/5
Woman (feat. The Dap-Kings Horns)
Si continua con la portentosa Woman, primo singolo promozionale della nuova era discografica, accompagnato da un video da veri badass! Il brano è l'unico esempio dal sapore soul/funk nel progetto ed è caratterizzato da un groove irresistibile, in cui i fiati dei Dap-Kings Horns fanno da padroni assieme alla voce potente ed espressiva della cantante. Se nelle prime due tracce Kesha inneggiava al rialzarsi e all'ignorare i commenti negativi, con Woman crea un vero e proprio inno alla femminilità, una risposta alle dichiarazioni di Donald Trump durante la sua campagna elettorale: le donne sono forti, indipendenti
I buy my own things, I pay my own bills / These diamond rings, my automobiles
intelligenti e soprattutto cazzute e tutti gli uomini devono farsene una ragione. Al ritmo di "I'm a motherfucker!", Kesha incanala tutta la sua energia e la sua attitudine per creare uno dei momenti più divertenti e danzerecci di Rainbow, sperimentando ancora una volta un altro genere e riuscendoci pienamente. Voto 5/5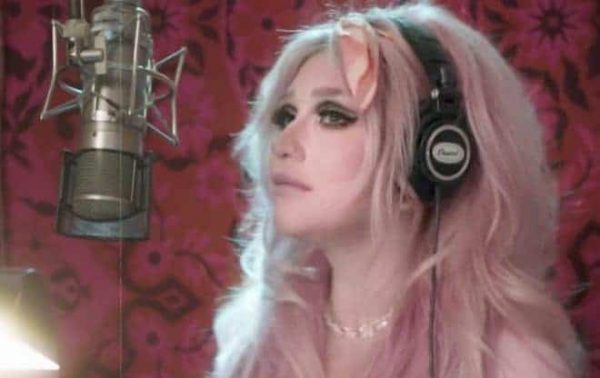 Hymn
Altro brano, altro incredibile inno: la quarta traccia, pubblicata come terzo singolo promozionale, è una piacevole e trascinante mid-tempo dal sound trascendente e psichedelico e dal beat che si fa sincopato e martellante nel ritornello. Dalla struttura molto semplice che strizza l'occhio ai lavori della prima Lorde, Hymn (originariamente chiamata Hymn For The Hymnless) è un brano dedicato ai suoi fedelissimi Animals: Kesha dichiara che la diversità è una ricchezza e non un errore ed esorta tutti ad essere se stessi e a continuare a "peccare" e a non seguire le regole sociali decise dagli altri
This is a hymn for the hymness/ kids with no religion/ Yeah we keep on sinning/ Yeah we keep on singing
perché "qualora esistesse un paradiso a noi non interessa entrarci". Come dichiarato dalla stessa cantante, Hymn non è un brano contro la religione in quanto la frase "kids with no religion" sta ad identificare ragazzi che non seguono le regole e preferiscono essere se stessi nonostante siano definiti "sbagliati" o "strambi" dalle istituzioni. Tra i primi quattro brani di Rainbow, Hymn è sicuramente il meno immediato dal punto di vista del sound, ma dopo pochi ascolti diventa ipnotico ed irresistibile. Interessanti inoltre sono i rimandi a brani come Die Young e We R Who We R (If we die before we wake, who we are is no mistake) che tracciano un filo nella discografia della cantante, nonostante il cambio radicale di genere. Voto 5/5
Praying
Arriviamo finalmente al trionfante lead single di questa era discografica, pubblicato il 6 luglio dopo cinque anni di silenzio forzato: Praying è una piano-ballad pop con influenze soul e con elementi gospel che arricchiscono una produzione asciutta ed essenziale. Il brano è stato scritta dalla stessa Kesha assieme a Ben Abraham, Andrew Joslyn e Ryan Lewis ed è stata prodotta da quest'ultimo; Acclamato dalla critica che ha lodato le doti tecniche ed interpretative della cantante, Praying è la risposta al suo carnefice, Dr. Luke, accusato di averla violentata sessualmente e psicologicamente. Nonostante il nome di Gottwald non sia mai menzionato, in alcuni passaggi si puo' ricostruire facilmente la vicenda: il primo verso ad esempio
Well you almost had me fooled/ Told me that I was nothing without you
riprende uno dei molti insulti ricevuti da Luke ("Non sei neanche tanto carina né talentuosa, sei solo fortunata ad avere me! Ci sono milioni di ragazze là fuori come te e tu non sei nulla senza di me!"). Il brano quindi è una lettera di perdono al suo carnefice
I hope you're find the peace/ Falling on your knees, praying
una sorta di riconciliazione per poter andare avanti, ma è anche un brano in cui la rabbia e il risentimento di Kesha sono canalizzati in modo catartico
When I'm finished/ They don't even know your name
Il brano, pur essendo una ballad, diventa potente ed epico nel secondo ritornello, quando percussioni martellanti, violini e cori gospel si affiancano al piano, creando un'atmosfera estremamente emozionante. Menzione d'onore va fatta al falsetto/whistle finale in cui Kesha riesce a toccare note altissime (Fa6) che neanche lei credeva di poter raggiungere (nonostante nei live tv non sia ancora stato proposto, ci sono molti video su YouTube in cui la cantante raggiunge un range vocale da Mi6/Fa6 durante il Fuck The World Tour). Praying è sicuramente uno dei brani più validi di Rainbow e una delle ballad più toccanti mai scritte, in cui tutto il dolore provato in questi anni emerge prepotentemente e viene trasformato in splendida arte. Voto 5/5
Learn To Let Go
Continuiamo con l'energica Learn To Let Go, estratta come secondo singolo promozionale dopo Woman. Il brano, che ricorda la sottovalutatissima All About You di Hillary Duff, è forse uno dei pochi ad essere quasi prettamente pop (seppur presentando influenze country) ed è una vera e propria scarica di adrenalina dopo l'emotiva ballad che la precede: caratterizzata da un ritornello spensierato e memorabile e soprattutto da un pre-chorus irresistibile
I know I'm always like/ Telling everybody you don't gotta be a victim
Learn To Let Go è sicuramente la più adatta ad essere il secondo estratto ufficiale di Rainbow. Accompagnato da un delizioso video in cui vengono mostrati VHS di una piccola e spensierata Kesha, LTLG è il frutto della maturazione della cantante, che preferisce mettere in pratica tutto quello che ha cantato fino a questo momento e finalmente riuscire a seppellire il passato per andare avanti
I think it's time to practice what I preach/ Exorcise the demons inside me
Inoltre nel brano sono raccontati gli episodi di depressione, impersonificata da un un uomo nero, che hanno attanagliato per anni la ragazza
Had a boogieman under my bed/ Putting crazy thoughts inside my head/ Always whispering, "It's all your fault"/ He was telling me "No, you're not that strong"
superati grazie al supporto dei fan e della sua famiglia. Ancora un'altra splendida traccia firmata Miss Sebert che fino ad ora non ne ha sbagliata neanche una. Voto 5/5
Finding You
Arriviamo alla prima canzone d'amore del progetto, dedicata a Brad Ashenfelter, compagno della cantante dal 2014: il brano, introdotto da un arpeggio di chitarra che sorregge l'intera struttura assieme ad una linea di basso, è di semplice ed immediata fattura e riesce a creare un'atmosfera dolce e melodica. Finding You parla di un amore talmente forte da trascendere il tempo e addirittura la morte, in quanto la donna riuscirà a ritrovare il suo amante dopo la sua dipartita, rimanendo anime immortali per l'eternità
I'm gonna search for your love, right through Hell and Heaven/ Millions of years yet to come and in all dimensions
L'acme del brano si raggiunge nel potentissimo ritornello perfetto per le radio
I know forever don't exist/ But after this life, I'll find you in the next/ And when I say "forever" it's the goddamn truth/ I'll keep finding you
in cui la voce della cantante risalta e stupisce. Il brano è inoltre fortemente collegato ad una traccia contenuta nella deluxe version di Warrior, Past Lives in cui viene narrato un amore predestinato che percorre i secoli grazie all'incarnazione. Voto 5/5
Rainbow
Arriviamo al cuore caleidoscopico del progetto: Rainbow è il primo brano scritto da Kesha durante la sua rehab, utilizzando una tastiera giocattolo che poteva usare un'ora al giorno. In questo brano Kesha riversa tutta la sua voglia di vivere, di sconfiggere la malattia e tornare a sorridere, potendo mettersi dietro alle spalle l'oscurità per abbracciare i colori della vita. La collocazione del brano nell'album non è casuale: la cantante ha deciso di porla come traccia numero 8 in onore del brano God Only Know, l'ottava traccia di Pet Sounds dei Beach Boys, una delle produzioni più valide della storia della musica secondo la cantante. È davvero commovente poter ascoltare questo brano e poter vivere il dolore di Kesha che si definisce "pazza" e in cerca di un segno sovrannaturale tra i cieli per poter trovare la pace
This kitty cat lost her mind/ Been lookin' for a star-sent sign that I'll be alright look to the skies
ma è anche molto forte il messaggio di rinascita che la ragazza dona a tutti quelli che stanno soffrendo
But in the dark, I realized this life is short/ And deep down, I'm still a child/ Playful eyes, wide and wild / I can't lose hope, what's left of my heart's still made of gold
Accompagnato da una produzione orchestrale e da bellissimi cori, Rainbow si presenta quasi come una colonna sonora in cui ancora una volta le doti liriche della nashvilliana stupiscono. Voto 4.5/5
Hunt You Down
Con Hunt You Down si apre un nuovo filone nel progetto, vale a dire quello dei brani scanzonati e meno impegnati. In particolare la traccia 9 è un omaggio alla musica country folk di Johnny Cash e un capovolgimento dei ruoli fissi del genere: in molte canzoni country infatti, ci sono storie di uomini che girano con la loro pistola nella fodera pronti a sparare alla loro donna traditrice; secondo Kesha se gli uomini posso tranquillamente parlare di cio' anche le donne ne hanno il diritto: infatti in Hunt You Down, Kesha è una ragazza possessiva e follemente innamorata
Baby I love you so much/ Don't make me kill you!
che tenta di controllare la vita del suo uomo stando costantemente al suo fianco
I wanna be your baby, your angel all in black/ Your little blue-eyed gypsy who's always got your back
a tal punto da minacciare di ucciderlo, nel trascinante ritornello, qualora questo le sia infedele
I've never hurt nobody/ Never buried a body/ Never killed no one/ […] Just know that if you fuck around/ Boy I'll hunt you down
Grazie al ritmo spensierato e al testo ironico, ma soprattutto alla padronanza del genere da parte di Kesha, Hunt You Down diventa uno dei brani più ballabili nonché una delle più grandi sorprese dell'album. Voto  4.5/5
Boogie Feet (feat. Eagles Of Death Metal)
Si continua con la seconda collaborazione con gli Eagles Of Death Metal: se Let 'Em Talk era una traccia pop rock di self-enpowerment, Boogie Feet è un brano totalmente basato sul divertimento e sulla danza. Caratterizzato da un riff hard rock e da percussioni martellanti, Boogie Feet vede il ritorno della vecchia Kesha, regina trash della pista da ballo, a cui non frega nulla dei soldi, dell'aspetto fisico o delle macchine
I just wanna dance like a motherfucker, yeah!
Con un sound scatenato e dannatamente catchy, Kesha riprende nel bridge finale alcuni temi del passato, come quello del divertirsi perché la vita è breve ed è una sola
Life's a hello, a goodbye/ The last laught, then you die/ I boogie 'cause I'm alive
portando a casa un altro risultato più che positivo. Voto 4/5
Boots
Ritorniamo nel Far West con Boots, una mid-tempo puramente country dal beat irresistibile in cui troviamo una Kesha fedelissima: infatti la stessa ammette di aver avuto uomini in ogni parte della Nazione, ma dopo aver conosciuto quello che sarebbe diventato il suo uomo tutto è cambiato
I have boys in every country code/ […] Then I met you Saturday night, I tried to run away/ […] Now every morning I wake up with you right next to me
e addirittura pensa anche alla vita da moglie, pensiero che prima la uccideva
Never thought about that wifey life/ Wedding bells just made me wanna die
Brano energico e travolgente, Boots ricorda nel bridge la smash hit Timber e sarebbe un ottimo singolo ufficiale remixata e resa più dance. Voto 4.5/5
Old Flames (Can't Hold a Candle To You) [feat. Dolly Parton]
Arriviamo alla collaborazione più prestigiosa dell'album: Kesha ripropone un classico country in compagnia della Regina del genere Dolly Parton, nonché interprete originale. Il brano è davvero importante per la famiglia Sebert (tanto che Kesha ne aveva già proposto una cover nell'EP Deconstructed uscito assieme a Warrior nel 2012), in quanto è stato scritto per Joe Sun da Pebe Sebert (compositrice country e madre della cantante) nel 1978 e due anni dopo portata al successo dalla Parton. Il brano è una ballad country in cui la voce graffiante di Kesha si sposa perfettamente con quella della leggendaria Dolly Parton, creando un connubio ottimale. Nonostante questa cover poteva essere evitata a favore di una traccia originale, è stata sicuramente inserita per rendere chiara la nuova direzione musicale intrapresa dalla ragazza che ha deciso di riabbracciare le sue radici country. Voto 3.5/5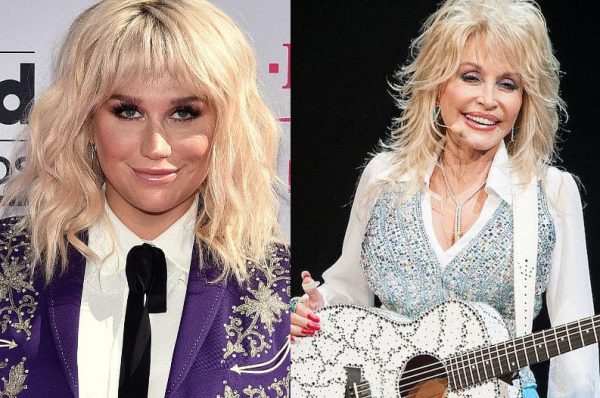 Godzilla
La penultima traccia apre un terzo filone nell'album, quello sovrannaturale: Godzilla sembra un tipico brano da cantare attorno ad un falò durante un campeggio sotto le stelle. La traccia si presenta quasi come una ninna nanna per bambini in cui Kesha si innamora del mostro e lo porta al centro commerciale o a conoscere sua madre, ma tutti si spaventano e fuggono via
While everyone else is running and screaming/ I just love being with you
non riuscendo a capire che dietro la dura facciata c'è un essere che ama come tutti gli altri. Unico brano originale non scritto da Kesha (ma da sua madre), Godzilla è piacevolmente stramba e, grazie ai suoi melodici cori e la sua dolce semplicità, s'incastona perfettamente nel progetto. Voto 3.5/5
Spaceship
L'ultima traccia dell'album è la vera anima, la vera essenza di Kesha: Spaceship chiude il progetto in acustico, unendo un sound lo-fi country ad un testo surreale ed emozionante. Nel brano, Kesha parla di esperienze post-mortem e della gioia con cui le affronterà: la cantante dice di non voler essere seppellita sotto un cumulo di terra o essere rimpianta perché lei tornerà finalmente a casa
I always said "When I'm gone, when I'm dead/ Don't lay me down with the dirt in my head/ […] You don't need to cry, I'm goin' to back home
Durante un'intervista Kesha ha rivelato di aver avvistato (da sobria) alcuni ufo nel deserto del Joshua Tree e quest'esperienza ha portato alla realizzazione della copertina di Rainbow e di questa splendida traccia come era già successo in passato con il brano Supernatural, in cui viene raccontata un rapporto sessuale tra la ragazza e un fantasma. Ancora una volta Kesha dice di non appartenere a questo mondo pieno di odio e lo fa con un outro parlato da pelle d'oca
As I leave this earth and sail into the infinite cosmo of the universe, the wars, the triumphs, the beauty, and the bloodshed, the ocean of human endeavor, it all grows quiet, insignificant. I'm nothing more than recycled stardust and borrowed energy, born from a rock, spinning in the ether. I watch my life backwards and forwards and I feel free. Nothing is real, love is everything, and I know nothing
che rende il brano ancor più epico e chiude l'intero progetto magnificamente,lasciando una sensazione di rinascita dalle ceneri e di libertà ultraterrena. Spaceship è sicuramente uno dei brani più belli ed originali (se non il più bello ed originale) del progetto, arricchito da cori onirici e da una instrumental magistrale in grado di farci fluttuare nella pace del cosmo. Voto 5/5
[td_smart_list_end]
Come ben potete vedere, tutte le tracce contenute in Rainbow sono state promosse in quanto perfettamente curate nella produzione e nella scelta dei temi e dei suoni.
L'album è sicuramente uno strumento catartico per Kesha che è riuscita ad esprimere le sue emozioni più recondite ed intime (come la paura di non poter più cantare, l'ansia per il suo aspetto fisico o la depressione e i disordini alimentati derivati dalla crudeltà dell'industria musicale, che ancora osanna modelli di bellezza malsani).
E' quindi lodabile come la cantante sia riuscita a trasformare il mix di sentimenti canalizzati in questi lunghi anni per creare una testimonianza tangibile per i suoi fan, cosa che molte altre popstar durante i loro momenti bui si sono rifiutate di fare.
Oltre alla grande maturità nelle melodie e nelle scelte liriche, in Raibow finalmente possiamo cogliere le vere capacità vocali della cantante, per anni ovattate e nascoste sotto auto-tunes inutili e fastidiosi (soprattutto nell'era Animal e Cannibal) e finalmente smentire le diceria che la vedevano stonata e senza un briciolo di talento.
Nonostante amiamo la nuova direzione musicale intrapresa e soprattutto la libertà con cui Kesha si affaccia a generi diversi, speriamo che in futuro potremo goderci ancora alcuni brani dance (o magari collaborazioni) simili a quelli che abbiamo amato in passato.
In conclusione possiamo solo congratularci con Miss Kesha Rose per il suo album già lodato dalla critica per la sua qualità, sperando che possa essere premiato come si merita.