Meghan Trainor: il cambio d'immagine distruggerà la sua carriera?
Il secondo album di un cantante è spesso decisivo per il lancio di un' intera carriera. Lo sta capendo in questo periodo Meghan Trainor. L'interprete ha da poco rilasciato il suo secondo disco "Thank You" (QUI la nostra recensione), CD che si sta rivelando un insuccesso se paragonato al debut album "Title". Facciamo un semplice confronto delle vendite delle prime 3 settimane: "Title" a livello mondiale vendette 417.000 copie in 21 giorni mentre "Thank You" ha ottenuto 199.000 copie, meno della metà, nonostante il periodo più favorevole.
E' evidente che qualcosa si sia inceppato nella carriera della Trainor. Cosa?
Lanciata dal discografico La Reid, Meghan Trainor diventa famosa a metà 2014 con il singolo "All About That Bass". Più o meno tutti ricorderete cosa si pensava di lei in quel periodo. Sembrava che fosse stata una combinazione di fattori fortunati ad averla portata al successo: un singolo tormentone, un video virale, un argomento (l' obesità) sempre sulla bocca di tutti.  "All About That Bass" riuscì così a rimanere per 8 settimane in vetta alla Billboard Hot 100 scambiandosi la vetta per diversi mesi con "Shake It Off" di Taylor Swift.
In quei mesi tutti davano Meghan per spacciata. Tanta, troppa casualità sembrava aver portato all'ascesa dell'astro Trainor, che proprio per questo  pareva essere destinato ad eclissarsi pian piano insieme alla sua "All About That Bass",  tanto che l'artista inizialmente nemmeno venne pagata dalla sua label.
Le cose invece non andarono così. Con la sorpresa di tutti, Meghan Trainor riuscì a sfondare anche con il singolo successivo: "Lips Are Movin'", una sorta di fotocopia di "All About That Bass", che ottenne comunque la top 5 negli USA. La presunta One Hit Wonder, contro tutte le previsioni, stava sfondando.
Il meglio però è arrivato nel 2015 con l'album "Title"  che ottenne un boom: 1,9 mln di copie nel 2015. Un successo peraltro prolungato tanto che l'ultimo singolo ad entrare in top 10 è stato "Like I'm Gonna Lose You", a fine 2015. Il coronamento di un inizio di carriera ottimo è arrivato a febbraio con la vittoria del Grammy come Best New Artist.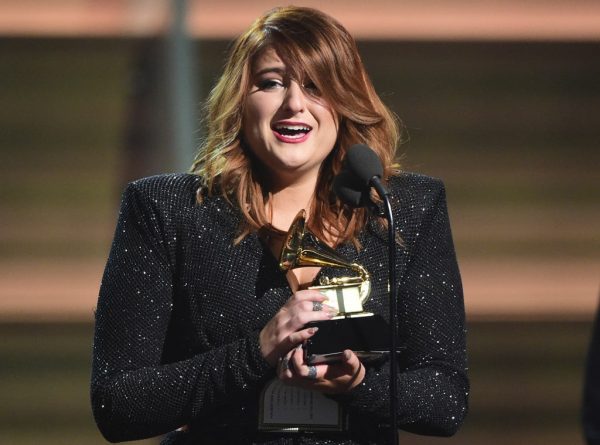 A quel punto si è aperto un bel dubbio per la Trainor. Battere il ferro finchè era caldo o prendere tempo prima di tornare con un secondo album? Come sapete,  è stata fatta la prima scelta, erroneamente.
Erroneamente proprio perchè la Trainor ha avuto successo. Se si fa un confronto si nota come "Title" di Meghan Trainor abbia venduto di più dei primi album di cantanti come: Demi Lovato,  Selena Gomez, Ariana Grande e persino "19" di Adele (chiaramente considerando le vendite precedenti all'uscita "21") . Inoltre, se consideriamo il crollo delle vendite nel corso degli anni, possiamo ipotizzare realisticamente che "Title" avrebbe venduto più di quanto avrebbero fatto oggi artiste come Rihanna e Nicki Minaj al loro primo album.
Non c'era quindi alcun bisogno che il 4 marzo uscisse "No", il primo singolo del suo secondo album. La canzone si è rivelata peraltro un successo discreto ma inferiore ai precedenti singoli della cantante. Dopo il boom nella settimana di debutto, "No" è uscito dalla top 10 velocemente ed è rimasto in top 20, senza più sussulti. La colpa ( e qui siamo al secondo errore) va quindi data proprio al singolo. Sicuramente è stata apprezzabile la svolta con un singolo un po' anni 90′ ma "No" non brilla nè per originalità nè per potenziale.
Insieme al singolo, è arrivato anche il video, un altro, il terzo errore della Trainor. Con una svolta azzardata d'immagine, la simpatica ragazza che non si vergognava del suo peso è diventata una gattona sexy (?) e provocante (???) star. Tanto basta cambiare il colore dei capelli e la gente si dimentica in poco tempo chi sei e ciò che hai fatto in passato, giusto? La maggior parte delle persone non ha potuto giustamente non dire: "Ma perchè?!". Cosa c'era di male nella cantante di "Title", che non faceva nulla per omologarsi alle altre pop stars, e che proprio per questo, per la sua semplicità, era stata premiata dal pubblico?
E poi dobbiamo proprio dirlo: Meghan Trainor non è un sex simbol, nè una ballerina professionista! "Cosa c'è di male, il suo compito è cantare!" penseranno alcuni di voi, in parte giustamente. Il problema è che prendendosi sul serio in certi ambiti che proprio ci sono estranei si finisce spesso per diventare ridicoli.
Con l'arrivo del suo secondo album "Thank You", i nodi sono venuti al pettine. Meghan ha realizzato un secondo album valido ma non abbastanza per rimanere ai livelli di fama e successo del primo album.  Avrebbe avuto bisogno sicuramente di più tempo per scartare dei brani e realizzarne altri e per scegliere una direzione più convincente. Dubbi sull'album li ha espressi lo stesso La Reid. Meghan Trainor ha infatti dichiarato che una volta consegnato il materiale al discografico, ha ricevuto una risposta parzialmente negativa dovuta all'assenza nel CD di possibili hits. A quel punto Meghan Trainor è tornata in studio ed ha realizzato "No" che, come abbiamo detto prima, non ha fatto faville.
Il secondo singolo "Me Too" ha lasciato il pubblico spiazzato. Da un lato colpisce l'effetto novità del singolo dall'altro finisce per scivolare via. Finora ha ottenuto risultati positivi solo in Australia. Negli USA sta ingranando ma non ci pare probabile che possa raggiungere la top 10.
Non possiamo certamente esprimere sentenze definitive, ma pare chiaro che la "Thank You Era" sembri un passo indietro, forse fatale, per la carriera di Meghan Trainor. 
Secondo voi invece cosa ha sbagliato Meghan Trainor? Immagine? Sound? Tempistiche? Tutto?