Nessuna donna in top 10 negli USA! É crisi nera per le popstar?
Nessuna donna nelle prime 10 posizioni della Hot100, fatto che negli States non accadeva da più di tre decenni! Cosa vorrà dire? La figura delle "popstar" sta vivendo un periodo di profonda crisi?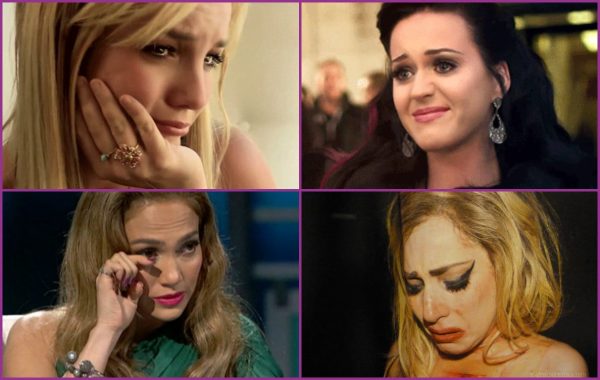 L'ultimo aggiornamento della Billboard Hot 100 ha portato con sé un dettaglio già di per sé eloquente, tanto più se andiamo a confrontarlo con il passato. Per la prima volta dopo ben 33 anni, nelle prime 10 posizioni della classifica singoli americana non c'è neanche l'ombra di una cantante donna.
Un fatto che mostra palesemente una controtendenza totale rispetto a qualche tempo fa, quando le donne dominavano letteralmente la scena musicale mondiale, e gli uomini stavano a guardare.
Eppure questa è la situazione:
1, "Shape of You," Ed Sheeran
2, "That's What I Like," Bruno Mars
3, "Humble.," Kendrick Lamar
4, "Sign of the Times," Harry Styles
5, "Something Just Like This," The Chainsmokers & Coldplay
6, "iSpy," KYLE feat. Lil Yachty
7, "Mask Off," Future
8, "XO TOUR Llif3," Lil Uzi Vert
9, "Body Like a Back Road," Sam Hunt
10, "Paris," The Chainsmokers
In un certo senso, per quanto la cosa faccia scalpore, era nell'aria. Ce ne siamo accorti tutti che il cambiamento che sta attraversando l'industria musicale ha investito in primis, e in maniera abbastanza preoccupante, la maggior parte delle popstar che, coi tempi che corrono, di "star" sembrano avere poco altro se non il nome.
La stessa Adele, che comunque meriterebbe un approfondimento a parte per quanto riguarda gli album, al di fuori di Hello non ha praticamente trovato alcun singolo di 25 capace di far breccia nelle chart. Ma lasciando stare appunto la britannica, che può comunque consolarsi con numeri da capogiro, il discorso inizia a farsi pesante di mezzo ci finiscono anche regine della Hot100 come Lady Gaga, Katy Perry, Britney Spears e altre colleghe che, nonostante gli sforzi, nell'ultimo periodo non sono proprio riuscite a sfondare il muro che le separa dal pubblico, come accadeva tranquillamente pochi anni fa. Fergie, Alicia Keys, Lorde, Iggy Azalea, Meghan Trainor ecc.
Lady Gaga e Katy Perry sono i due casi più eclatanti al momento. La prima si è vista costretta a metter da parte in soli sei mesi un'era discografica perché non affine con ciò che pubblico e radio chiedono, per tornare con un pezzo che, per quanto oggettivamente piacevole, sembra comunque una traccia confezionata per seguire la scia tracciata dai The Chainsmokers. La seconda, invece, era dopo era ha sempre fatto sfaceli nella Hot100, centrando una #1 dopo l'altra e rimanendovi per settimane, mesi. Certo, chiamare flop Chained To The Rhythm è azzardato (QUI per approfondire), ma è inutile negare che le performance che ci si aspetta da Katy Perry con i singoli sono ben altre. Quale sarebbe stata la sorte di Dark Horse se fosse stata pubblicata un paio di mesi fa?
E' vero che con lo streaming le classifiche sono in buona parte stravolte, ma la "colpa" non può essere data solo a questo.
Forse è solo questione di moda. Oggi la gente preferisce ascoltare le produzioni piuttosto che la canzone in sé, preferisce ascoltare DJ magicamente scopertisi cantanti dall'oggi al domani. I ritornelli catchy e orecchiabili che hanno fatto grande il pop ora sono stati scalzati da basi tropical e sound EDM martellanti, triti e ritriti. Le canzoni sembrano tutte uguali ma, a quanto pare, va bene così. E visto che è il pubblico che scarica, compra o ascolta su Spotify la musica che ritiene migliore, allora non possiamo lamentarci se questa è la situazione attuale.
10 artisti uomini di top 10 Billboard, come abbiamo detto, non accadeva da 33 anni. All'epoca si parlava comunque di una top 10 formata da George Michael, Phil Collins, Bon Jovi, Paul Joung. Così per dire, con tutto il rispetto. Le donne ci sono, dalla 11 in poi, ma tutte accompagnate. Selena Gomez con Kygo, Alessia Cara con Zedd e Anne-Marie con Clean Bandit & Sean Paul.
La figura della popstar sta vivendo un periodo di crisi. Di cosa (o chi) c'è bisogno per invertire la rotta? Basterà semplicemente che la moda faccia il suo corso?
Vi invitiamo a dirci la vostra opinione.