Ecco la classifica degli album più ascoltati di sempre su Spotify!
Quali sono gli album più ascoltati di sempre su Spotify? Ecco qua la classifica.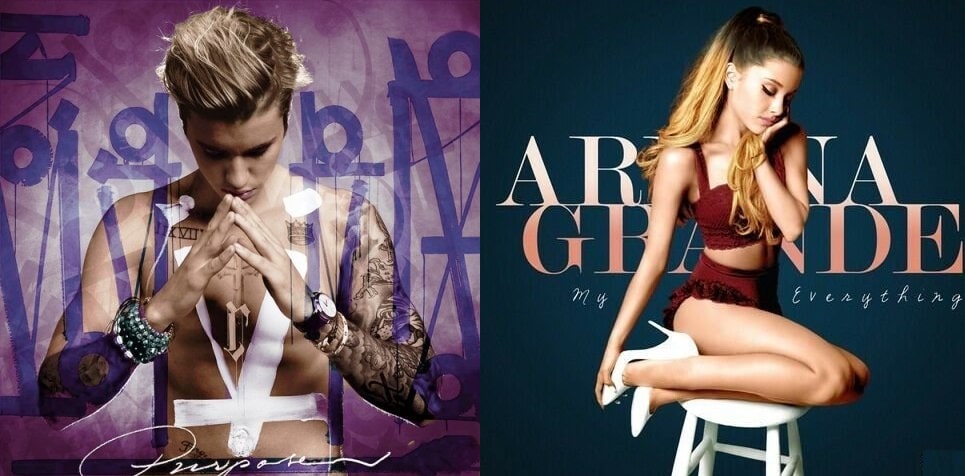 Con le vendite degli album che calano in maniera esponenziale, ormai anche un altro parametro sta diventando sempre più importanti agli occhi dei discografici: lo streaming.
Che si tratti di servizi a pagamento o di servizi gratuiti con annessa una certa quantità di pubblicità da somministrare agli utenti ogni tot tempo, lo streaming ormai porta abbastanza soldi a chi nella musica vede una fonte di guadagno, e per questo è probabile che continuerà a prendere piede in maniera progressiva negli anni futuri.
Dato che molto difficilmente si trova in giro un cinquantenne che preferisce ascoltare musica in questo modo piuttosto che attraverso radio, CD o i vecchi vinili e musicassette, lo streaming è uno strumento solitamente adoperato da persone abbastanza giovani.
Nella stragrande maggioranza dei casi under 30. Ne vien da sé che gli artisti premiati in questo modo sono soprattutto i teenidols, o comunque i cantanti che riescono a farsi amare soprattutto da un fanbase giovane, ed è per questo che gli album che ottengono più successo in questo settore sono progetti che riescono ad incuriosire più ragazzini che adulti, almeno nella maggioranza dei casi.
Per quanto (per ora) resti preferibile vendere piuttosto che campare di solo streaming, ci sono dunque artisti che riescono a guadagnare di più in questo modo che di pure vendite, dato i loro album non vendono praticamente nulla ma ottengono un buon riscontro sui servizi streaming.
Di contro, però, sono invece gli album che riescono anche a convincere il pubblico comprante quelli che ottengono i risultati migliori anche nello streaming, e lo dimostra
la classifica dei 6 album più ascoltati di sempre su Spotify
Justin Bieber, Purpose  – 3,6 miliardi

Ed Sheeran, X – 2,8 miliardi

Sam Smith, The Lonely Hour . 2,2 miliardi
The Weeknd, Beauty Behind Madness – 2,1 miliardi
Ariana Grande, My Everything – 1,8 miliardi
Imagine Dragons, Night Visions – 1,6 miliardi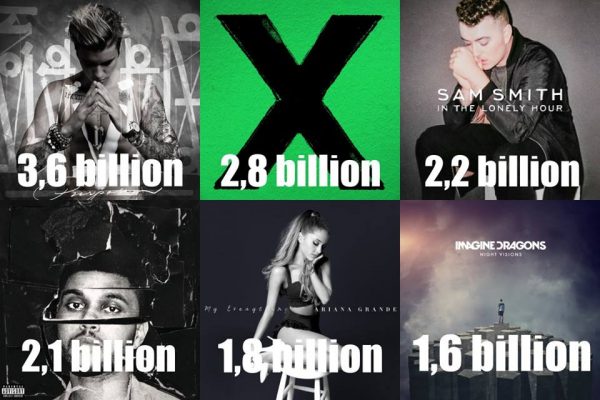 Come potete notare, si tratta in tutti i casi di album che hanno anche venduto molto per gli standard odierni, e questo fa capire che anche il pubblico non disposto a spendere più di tanto per un disco si lascia avvicinare maggiormente da album che vendono piuttosto che lasciarsi incuriosire da progetti meno fortunati.
Vi ricordo che la mancata presenza di Adele e Taylor Swift con "25" e "1989" è dovuta all'assenza dei rispettivi dischi su Spotify, ma anche che il progetto di Adele è stato edito anche per lo streaming giusto qualche settimana fa, dunque è probabile che presto gli Imagine Dragons siano scalzati da lei.
Che ne pensate di questa chart?