Taylor Swift Ed Sheeran Future – End Game | video premiere
Taylor Swift ha rilasciato il video di End Game, insieme a Future e Ed Sheeran.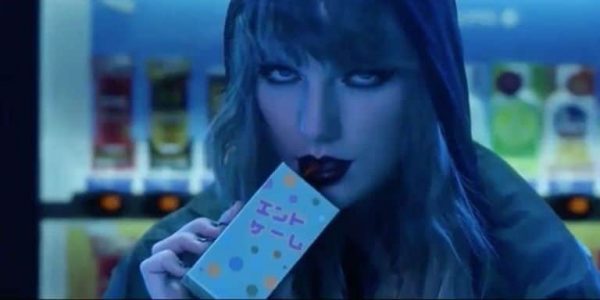 ---
Taylor Swift ha girato in queste ore il nuovo video per il singolo "End Game", terzo estratto dal suo album già multi platino "Reputation".
Ecco qua i primi scatti rubati dal set del video:
---
Taylor Swift ha deciso il prossimo singolo di "Reputation"
Sarà la collaborazione di prestigio con Ed Sheeran e Future nel brano "End Game" il nuovo singolo di Taylor Swift dopo il successo di "Look What You Made Me Do" e "Ready For It?".
La cantante secondo le stime avrebbe già superato il milione di copie vendute sul territorio americano in appena 4 giorni dal rilascio del suo nuovo album.
Un video per la canzone verrà registrato nelle prossime settimane! Siamo certi che la formula di collaborazione potrà suscitare ulteriore interesse in un progetto già di per se molto forte, e con Ed Sheeran, potrebbe risultatre l'arma vincente per Taylor ed aumentare anche le vendite "internazionali", visto che per ora questo é il tallone d'achille.
---
Taylor Swift potrebbe aver collaborato con Ed Sheeran ed il rapper Future nel suo album Reputation!
Ancora avvolto nel mistero il nuovo disco di Taylor Swift "Reputation", in uscita il 10 novembre e tra le release più potenti di questo autunno inverno, se non la più potente.
Sono state svelate fino ad ora tre tracce del disco, tra cui il primo singolo "Look What You Made Me Do", che é stato come da pronostici un campione di incassi. Ma all'interno del disco potrebbero esserci anche delle collaborazioni.
La più plausibile é quella con Ed Sheeran e Future, e nel video rilasciato pochi giorni fa per il brano "Ready For It?" ci sarebbero degli hint.
I read somewhere that Taylor teased a Future/Ed Sheeran collaboration at her Secret Sessions and I think she just confirmed it…in Chinese: pic.twitter.com/7LNDkeNJds

— Sam Stryker (@sbstryker) October 27, 2017
According to HDD, Taylor Swift is releasing a new single from #reputation soon. It is rumored to be "End Game" with Future and Ed Sheeran. pic.twitter.com/nIQsZxOtTo

— 24/7 Pop Culture (@247PopCulture) October 28, 2017
Secondo i più informati di HDD, la canzone dovrebbe chiamarsi "End Game", e potrebbe essere estratta come prossimo singolo, durante il lancio del disco sul mercato!
Una bomba, perché andrebbe ad attirare anche tutto il fanbase di Ed Sheeran, grandissimo, e quello di Future, che nell'ambiente urban é uno dei rapper più risepttati.
Vedremo come sarà questa collaborazione, certo le premesse per un singolo forte ci sono anche questa volta!
Cosa ne pensate?
Testo
I wanna be your end game
I wanna be your first string
I wanna be your A-Team (woah, woah, woah)
I wanna be your end game, end game
Big reputation, big reputation
Ooh, you and me, we got big reputations
Ah, and you heard about me
Oh, I got some big enemies (yeah)
Big reputation, big reputation
Ooh, you and me would be a big conversation
Ah, and I heard about you (yah)
Oh, you like the bad ones, too
You so dope, don't overdose
I'm so stoked, I need a toast
We do the most, I'm in the Ghost like I'm whippin' a boat
I got a reputation, girl, that don't precede me (yah)
I'm a call away whenever you need me (yeah)
I'm in a G5 (yeah), come to the A-Side (yeah)
I got a bad boy persona, that's what they like (what they like)
You love it, I love it too, 'cause you my type (you my type)
You hold me down and I protect you with my life
I don't wanna touch you, I don't wanna be
Just another ex-love you don't wanna see
I don't wanna miss you (I don't wanna miss you)
Like the other girls do
I don't wanna hurt you, I just wanna be
Drinking on a beach with you all over me
I know what they all say (I know what they all say)
But I ain't tryna play
I wanna be your end game
I wanna be your first string
I wanna be your A-Team
I wanna be your end game, end game
Now well, when I was young, we connected
When we were little bit older, both sprung
I got issues and chips on both of my shoulders
Reputation precedes me and rumors are knee-deep
The truth is, it's easier to ignore it, believe me
Even when we'd argue, we'd not do it for long
And you understand the good and bad end up in the song
For all your beautiful traits and the way you do it with ease
For all my flaws, paranoia, and insecurities
I've made mistakes and made some choices, that's hard to deny
After the storm, something was born on the 4th of July
I've passed days without fun, this end game is the one
With four words on the tip of my tongue, I'll never say it
I don't wanna touch you, I don't wanna be
Just another ex love you don't wanna see
I don't wanna miss you like the other girls do
I don't wanna hurt you, I just wanna be
Drinking on a beach with you all over me
I know what they all say, yeah, but I ain't tryna play
I wanna be your end game
I wanna be your first string
I wanna be your A-Team
I wanna be your end game, end game
Big reputation, big reputation
Ooh, you and me, we got big reputations
Ah, and you heard about me
Oh, I got some big enemies
Hey, big reputation, big reputation
Ooh, you and me would be a big conversation
Ah, and I heard about you
Oh, you like the bad ones, too
I hit you like bang
We tried to forget it, but we just couldn't
And I bury hatchets, but I keep maps of where I put 'em
Reputation precedes me, they told you I'm crazy
I swear I don't love the drama, it loves me
And I can't let you go, your hand prints on my soul
It's like your eyes are liquor, it's like your body is gold
You've been calling my bluff on all my usual tricks
So here's a truth from my red lips
I wanna be your end game
I wanna be your first string (Me and you)
I wanna be your A-Team (Be your A-Team, yeah)
I wanna be your end game, end game
I wanna be your end game, oh, I do
I wanna be your first string
I wanna be your A-Team
I wanna be your end game, end game
Traduzione
Voglio essere la fine del tuo gioco
voglio essere la tua prima del round
voglio essere nella tua A-Team
voglio essere la fine del tuo gioco, la fine del tuo gioco
Grande reputazione, grande reputazione
oh io e te, abbiamo grandi reputazioni
ah e hai sentito parlare di me
oh, ho dei grandi nemici
Grande reputazione, grande reputazione
oh io e te potremmo fare una grande conversazione
ah, ho sentito parlare di te
oh anche a te piacciono quelle cattive
Sei così su di giri, non esagerare con le quantità
sono così emozionata, ho bisogno di un brindisi
facciamo il massimo, io sono il fantasma che infesta una barca
ho una reputazione, ragazza, che non mi precede
sono ad una chiamata di distanza, quando hai bisogno di me
sono in un G5, vieni dal lato di A
ho una personalità da ragazzaccio, è questo che a loro piace (quel che gli piace)
lo ami, lo amo anch'io, perchè tu sei il mio tipo
mi trattieni e io ti proteggo con la mia vita
Non voglio toccarti, non voglio essere
solo un'altra ex che non vuoi vedere
non voglio che mi manchi
come ti mancano le altre ragazze
non voglio ferirti, voglio solo
bere su una spiaggia con te, che sei su di me
so cosa dicono tutti
ma non sto cercando di giocare
Voglio essere la fine del tuo gioco
voglio essere la tua prima del round
voglio essere nella tua A-Team
voglio essere la fine del tuo gioco, la fine del tuo gioco
Adesso, beh, quando ero giovane, eravamo in contatto
quando siamo diventati più grandi, entrambi siamo venuti fuori
ho problemi e risentimenti sulle mie spalle
la reputazione mi precede e i pettegolezzi sono ovunque
la verità è che è più facile ignorarli, credimi
anche quando litigheremo, non lo faremo a lungo
e capisci che il bene e il male finiscono in questa canzone
per tutte le tue belle caratteristiche e il modo in cui lo fai con semplicità
per tutti i miei difetti, la paranoia, le insicurezze
ho commesso degli errori e ho fatto delle scelte, è difficile negarlo
dopo la tempesta, qualcosa è nato il 4 di Luglio
ho trascorso giorni senza divertimento, questa fine del gioco è il primo
con quattro parole sulla punta della lingua, non lo dirò mai
Non voglio toccarti, non voglio essere
solo un'altra ex che non vuoi vedere
non voglio che mi manchi come ti mancano le altre ragazze
non voglio ferirti, voglio solo
bere su una spiaggia con te, che sei su di me
so cosa dicono tutti, sì ma non sto cercando di giocare
Voglio essere la fine del tuo gioco
voglio essere la tua prima del round
voglio essere nella tua A-Team
voglio essere la fine del tuo gioco, la fine del tuo gioco
Grande reputazione, grande reputazione
oh io e te, abbiamo grandi reputazioni
ah e hai sentito parlare di me
oh, ho dei grandi nemici
Grande reputazione, grande reputazione
oh io e te potremmo fare una grande conversazione
ah, ho sentito parlare di te
oh anche a te piacciono quelle cattive
Ti colpisco come un colpo
abbiamo provato a dimenticarlo, ma non ci siamo riusciti
e seppellisco le accette, ma mantengo le mappe che segnano il punto esatto in cui le ho messe
la reputazione mi precede, ti hanno detto che sono pazza
giuro che non amo i drammi, sono loro che amano me
e non posso lasciarti andare, ho la sagoma della tua mano impressa nella mia anima
è come se i tuoi occhi fossero liquore, come se il tuo corpo fosse oro
vuoi vedere il mio bluff sui miei giochini soliti
quindi ecco la verità che esce dalle mie labbra rosse
Voglio essere la fine del tuo gioco
voglio essere la tua prima del round (io e te)
voglio essere nella tua A-Team
voglio essere la fine del tuo gioco, la fine del tuo gioco
Voglio essere la fine del tuo gioco, sì lo voglio
voglio essere la tua prima del round
voglio essere nella tua A-Team *
voglio essere la fine del tuo gioco, la fine del tuo gioco