Troye Sivan: le sue foto nudo finiscono sul web
Troye Sivan ha esordito nel 2007 sul grande schermo grazie alla sua apparizione all'interno di uno dei film di X Men.
Si è poi reinventato come youtuber, e nel 2013 ha fatto pubblicamente coming out attraverso questa piattaforma, e da qualche anno si è improvvisato pure cantante, rilasciando vari singoli e un album, Blue Neighbourhood, che ha ricevuto critiche estremamente positive al punto da accendere i riflettori sul ragazzo, sicuramente uno dei più grandi talenti emersi negli ultimi anni.
Nonostante il debutto abbastanza recente, il cantante di "Youth" è già finito nel mirino di tutti i media mondiali visto che, poche ore fa, sono state pubblicate su Twitter alcune foto che lo ritraggono nudo davanti ad uno specchio. Ormai gli scandali hot sono all'ordine del giorno. La lista di tutti quelli che hanno dovuto affrontare questo "incidente", tra cui Justin Bieber (QUI per vedere le sue ultime foto nudo) e Ariana Grande, si sta allungando sempre di più, a causa della fragilità di alcune applicazioni che spesso rivelano delle falle nel proprio server.
Come abbiamo appena detto, una foto senza veli del cantante australiano è apparsa poche ore fa sul web, i fan di Troye sono andati nel panico, ma lui ha ironizzato sull'accaduto pubblicando su Twitter uno screenshot di una conversazione con suo amico, nel quale la web star butta questa vicenda sul ridere affermando di aver scattato delle foto nelle quali era venuto veramente bene.
when ur almost nudes leak and ur talking to management pic.twitter.com/MYrdHZYB5l

— troye sivan (@troyesivan) September 14, 2016
Quando stanno uscendo le tue foto nudo e tu parli con il tuo management.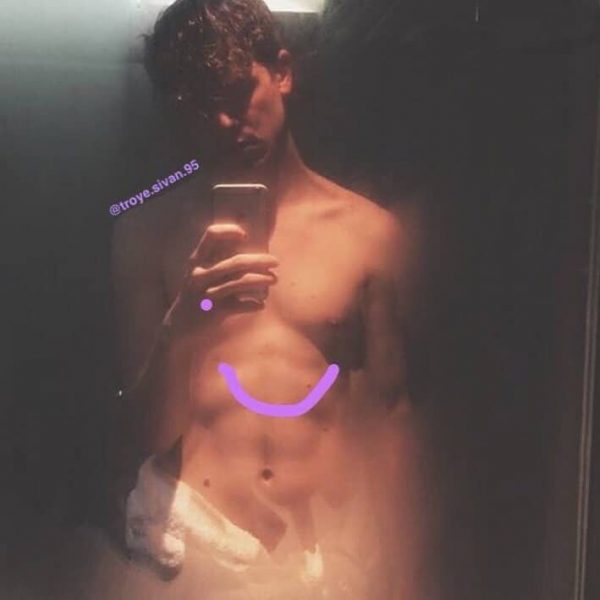 In realtà, come hanno fatto notare alcuni fan, delle due foto,
solo quella di sinistra è di Troye, l'altra è uno scatto di Connor Franta sotto la doccia
, ex corteggiatore del cantante nonchè youtuber abbastanza conosciuto a livello mondiale, che ha pubblico poco tempo fa nella sezione Instagram Stories del suo profilo social.
Per quanto riguarda la sua vera foto, non è stato chiarito se a renderla pubblica è stato un hacker oppure un suo amico che ha condiviso la foto, mandatagli dallo stesso Troye, su Twitter per scherzo o per vendetta, proprio come è successo a Fedez (QUI per vedere la foto hot pubblicata da un amico).
Voi che ne pensate di tutta questa vicenda?