Zayn si esibisce con "Like I Would" da Jimmy Fallon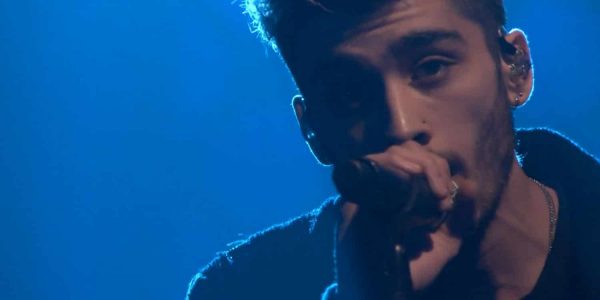 Poche ore fa è stato rilasciato il video del nuovo pezzo di Zayn "BeFoUr" (lo trovate QUI), inoltre proprio oggi esce il primo lavoro discografico solista dell' ex one Direction, "Mind Of Mine", nel quale per la prima volta l'artista esplora sonorità diverse, più mature e urban.
"Like I Would" è in realtà una bonus track della deluxe edition, curiosa scelta considerando che il brano in questione è stato estratto come singolo, e che il video arriverà a breve! La canzone ha esordito alla numero 55 della Hot 100, non riuscendo ad eguagliare i risultati di "Pillowtalk" (che potè contare del lancio assieme al video), pur trattandosi di un brano buono, che riesce a mettere in luce tutte le ottime potenzialità dell'artista.
Sicuramente con il video il pezzo potrà fare ancora meglio, ed il cantante ha pensato di esibirsi durante lo show di Jimmy Fallon, al fine di promuovere il singolo, ma soprattutto l'album, che attualmente staziona alla 1 di iTunes USA.
Il live è stato buono, il bel ragazzo è riuscito a creare una buona atmosfera e a dare una performance vocale pienamente soddisfacente. Zayn segue un po' il sentiero tracciato da Nick Jonas, che prima di lui ha abbandonato il teen pop per passare a sonorità più tipicamente ispirate alla musica black (ovviamente tutto ciò è stato fatto in passato anche da un certo Timberlake), con risultati buoni anche in questo caso, solo che Zayn può contare sicuramente su un supporto ancora forte delle proprie fans nonostante le vicissitudini che lo hanno portato a sciogliersi dalla band che lo ha innalzato al successo. Stessa cosa non si può dire per Nick, che nel primo decennio Duemila, ai tempi dei Jonas Brothers poteva contare su un forte sostegno, ma dopo anni si trova a dover costruire praticamente un fanbase da zero (i gusti degli adolescenti cambiano nel giro di qualche anno).
Una formula consolidata dunque, niente che non sia già stato sperimentato in passato, peraltro Zayn per questo lavoro sembra essersi ispirato all'artista black più in voga del momento, The Weeknd, e ad un altro grande nome che invece regna sulla urban da più di dieci anni, Chris Brown (storico idolo di Zayn).
La nostra recensione del disco di Zayn dovrebbe arrivare a breve, intanto eccovi il live di "Like I Would", che ne pensate?
https://www.youtube.com/watch?time_continue=74&v=UIWmag3EOVo