7 fatti su Madonna che i bimbiminkia ignorano e gli haters fingono di non sapere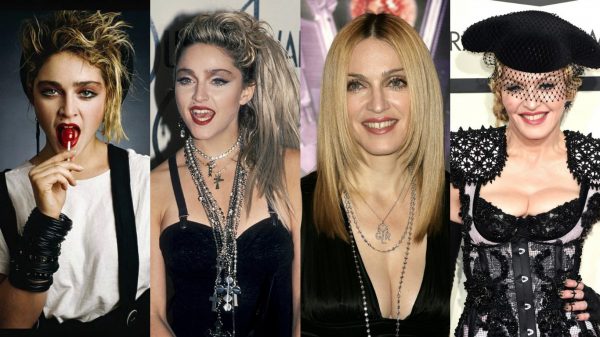 E' difficile da credere ma ieri ricorreva il 32° compleanno del secondo album in studio di Madonna, Like A Virgin. Trentadue anni fa l'innovativo Like A Virgin non solo fece diventare la material girl un vero e proprio fenomeno culturale ma definì un decennio. Dopo il suo secondo album Madonna divenne un'icona di stile e di musica. Il suo look sbarazzino fu imitato da milioni di ragazzi in giro per il mondo e la cantante divenne una delle prime popstar mondali, tra le più grandi di sempre.
Prima di Beyoncé, Ariana Grande, Selena Gomez o Lady Gaga, c'era Madonna. Oggi vi racconteremo alcune curiosità sull'icona pop che – se non sapete – dovreste assolutamente conoscere. Ecco a voi la regina del pop.
1. DOPO 30 ANNI E' ANCORA RILEVANTE
Poche sono le cantanti che possono definirsi rilevanti contando alle spalle una carriera trentennale. Solo le icone possono permetterselo e questo è il caso di Madonna. Madonna è prima di tutto un'icona manifesto degli anni '80 ma, tutt'oggi, domina ancora la cultura pop mainstream, che piaccia o meno. Il suo Superbowl Halftime Show del 2012 ha attirato 114 milioni di spettatori divenendo il secondo Halftime di una artista femminile più visto nella storia, superato solo da Katy Perry.
Il suo MDNA Tour è stato il tour del 2012 ad aver raggiunto il numero più alto di incassi e il secondo per una artista femminile nella storia. Siete curiosi di sapere a chi appartiene il primato? Il primo appartiene sempre a Madonna con il suo Sticky & Sweet Tour. Il suo ultimo album, Rebel Heart, ha debuttato alla No.2 nella Billiboard Hot 200 diventando il 21° album di Madonna ad aver raggiunto la top 10 (comprendendo anche le raccolte). Evidentemente il pubblico è ancora interessato per Madge e questi numeri lo provano.
2. LA SUA ETA' E' IRRILEVANTE
In un'epoca di incredibile "girl power" è deludente quante volte abbiamo sentito persone (a volte le stesse donne) criticare Madonna in base alla sua età.
La frase "è troppo vecchia per fare quello che sta facendo" l'abbiamo sentita tutti almeno una volta nella nostra vita. La risposta a questa affermazione è che Madonna non ha bisogno di giustificare il suo stile controverso né ora né mai, lei ha fondato la sua immagine proprio sullo scandalo.
Madonna è in costante evoluzione anche a 50 anni e questa è la prova che l'età non ci definisce. E' un messaggio fantastico.
3. PARLAVA DEI PROBLEMI SOCIALI PRIMA CHE FOSSE "COOL"
E' piacevole vivere in un mondo in cui ognuno può – quasi – esprimere sé stesso.
Ora più che mai l'orientamento sessuale e l'identità di genere vengono orgogliosamente espressi senza il timore del giudizio generale. Gli artisti contemporanei tuttavia hanno deciso di abbracciare una causa ormai popolare. Madonna ha sostenuto gli stessi diritti già negli anni '80 e '90 quando questi erano molto impopolari e poco condivisi dalla società.
La sua esplorazione e rivoluzione sessuale, specialmente durante il Blonde Ambition Tour ('90-'91) e durante tutta l'era Erotica, ha suscitato parecchio scalpore, scatenando discussioni sulla sua immagine controversa. Nel 1990 le forze dell'ordini canadesi l'hanno minacciata di arresto per aver simulato una masturbazione sul palco del Blonde Ambition Tour; secondo voi questo l'ha fermata? Ovvio che no.
| MADONNA SCENDE IN PIAZZA E MANIFESTA CONTRO DONALD TRUMP |
4. PRIMA DI ESSERE UNA CANTANTE E' UNA CANTAUTRICE
Il concept centrale della carriera di Madonna è la reinvenzione di sé stessa, a partire dai look per arrivare al sound.
La cantante ha rivestito un ruolo fondamentale da cantautrice a partire da True Blue (1986) e da allora ha continuato a stupirci con i testi scritti di suo pugno che siano cori di indipendenza o sfoghi personali. A partire da Like A Prayer (1989) Madonna è la co-scrittrice di ogni testo contenuto nei suoi album (ad eccezione di Fever e Bedtime Stories).
In un'epoca di hit-maker come Dr. Luke o Max Martin che vendono i loro prodotti quasi preconfezionati questa è un'impresa incredibile. Recentemente Madonna è stata inserita nella top 100 dei più grandi cantautori della musica secondo Rolling Stone, nella quale classifica occupa la posizione 57 e concorre per la Songwriters Hall Of Fame.
5. SA CANTARE
Avete ancora dubbi? Guardate la perfomance sulle note di Sooner Or Later agli Accademy Awards 1991. Certamente non una delle migliori vocalist ma è la stessa Madge a definirsi una "performer" più che "cantante".
6. HA APERTO LA STRADA AD OGNI ARTISTA FEMMINILE



A Madonna si deve l'aver sdoganato il corpo femminile nella musica pop mainstream. Senza il coraggioso video musicale di Justify My Love, la Spears non avrebbe mai rilasciato l'iconico In The Zone (2003).
Se Madonna non avesse girato il video di Bedtime Story la stessa Katy Perry ha affermato che il suo California Gurls sarebbe stato appena una fantasia. E cerchiamo di essere oggettivi: senza Express Yourself non ci sarebbe Born This Way.
7. E' UNA DELLE MIGLIORI ENTERTAINER DI SEMPRE 
Se c'è qualcosa che Madonna senza dubbio sa come fare è sicuramente mettere su uno show! La teatralità, le coreografie e la scenografia, tutto è perfettamente realizzato per creare una esperienza indimenticabile che non può avere eguali. Dopo 30 anni di carriera c'è ancora fuoco nei suoi occhi e questo è il motivo per cui tutte le sue performance sono fantastiche.
Madonna trasmette un'incredibile grinta in tutto ciò che fa e l'interazione con il pubblico rende le sue performance non solo delle semplici esibizioni ma veri e propri spettacoli. Da un momento all'altro può saltare, oppure no, fare una lap-dance su una croce o simulare un rapporto sessuale su un letto di velluto. Nessuno sa usare imprevedibilità come sa fare Madge.
E voi siete d'accordo con noi? Ritenete Madonna l'indiscussa "regina del pop" o secondo voi con gli anni è stata rimpiazzata da popstar più talentuose?