Demi Lovato risponde alla critiche di Pink sui VMAs
Pink non voleva creare nessun beef   con il suo attacco agli MTV Video Music Awards, che ha definito imbarazzanti e tristi per il tipo di intrattenimento presentato, salvando solo le performances di alcuni artisti. Tra questi non figurava il  nome di Demi Lovato, che ha deciso di rispondere alle accuse della collega. Prima però che la Lovato intervenisse, Pink ha voluto chiarire le sue idee.
Incalzata da alcuni fans, Pink ha spiegato su Twitter di non avercela né con Demi Lovato né con nessun'altra artista e che la sua intenzione non fosse stata quella di dare il via all'ennesima faida. Riguardo Demi in particolare, Pink ha tweetato di essersi dimenticata dell'esibizione (LOL), forse a suo modo di vedere né ottima sul piano qualitativo né abbastanza imbarazzante per accomunarla al trash della serata, oppure troppo anonima per essere presa in considerazione? Inoltre la cantante di "Try This" ha ribadito di avere le sue opinioni critiche in merito allo show.
"Per favore guardate altrove per una faida. Non ho problemi con Demi Lovato o nessun altro. Ho dimenticato si fosse esibita. ho le mie opinioni. MOLTE. Rimango su quello che ho detto. Tuttavia, non intendevo dare corda alla gente arrabbiata nel mondo in modo che la cosa venga trasformata in ciò che non è. Pace.

Capite, questo è proprio quello di cui mi sono lamentata per quanto riguarda i VMAs ed il mondo intero in generale. Tutti sono così cattivi ed in attesa di una lotta. Non ho detto niente su Demi Lovato, nè ho chiamato in causa nessun altro. Conversavo con un amico in risposta al suo disappunto a proposito dello show. Sono d'accordo con lui. Potete trasformare questo in ciò che vi pare, dato che ci siamo ridotti a questo a quanto pare. Io mi chiamo fuori. "
Nel suo post Pink dopo aver salvato alcuni artisti aveva chiosato "il resto è stato indecente ed imbarazzante", Demi Lovato ha scelto  di rispondere inidrettamente a Pink con due tweets:
"Cool for The Summer forse non salverà nessun ragazzo nè ispirerà, ma penso che Skycraper e Warrior abbiano fatto un buon lavoro nell'aiutare le persone che affrontano la malattia mentale. I Vma sono sexy e divertenti. C'è tempo e luogo per ogni cosa."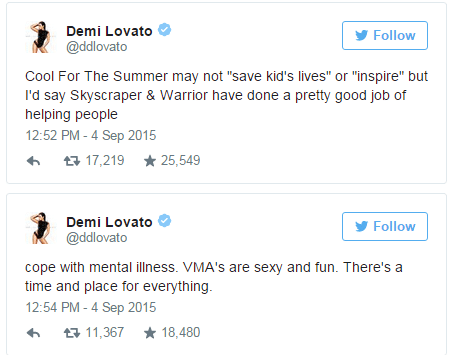 A questo punto vorremmo un feedback da parte vostra per capire che cosa ne pensate della vicenda. Da una parte le lamentele di Pink rappresentano una sacrosanta verità, ossia che questi VMAs siano stati uno show artisticamente imbarazzante, dall'altra parte si potrebbe pensare ad una provocazione studiata. Potremmo chiederci dove fosse Pink quando nel 2013 Miley Cyrus e Robin Thicke si esibirono con la performance più trash della storia dei VMAs, edizione nella quale Pink ha ricevuto un premio. Con questo non ce la sentiamo di attaccare Pink, ma vorremo solo conoscere la vostra opinione.
Ad onor di cronaca, va detto che Pink non ha criticato i VMAs su un profilo ufficiale, ma ha usato il suo twitter solo per complimentarsi con gli artisti che le erano piaciuti. Le lamentele riguardanti lo show invece derivano da un suo profilo Instagram privato, dove la seguono soltanto i suoi amici.
Per quanto riguarda la Lovato poi, le sue dichiarazioni sono più che giuste riguardo ai brani tratti dalle Ere discografiche passate, le quali presentano testi davvero significativi che (anche questo è un dato di fatto) hanno davvero aiutato molti adolescenti con problematiche di vario tipo mostrando loro come sia possibile superare certe situazioni e diventare più forti che mai, tuttavia l'impressione è quella che Demi si sia sentita offesa solo perché non inclusa nella lista degli artisti "salvati" da Pink parlando di qualità della performance vocale.
Va detto che Demi non ha cantato bene ai VMAs e che riscontra problemi in generale con l'esecuzione di Cool For The Summer, canzone inadatta a lei per la difficoltà nel muoversi sulle note basse presenti nelle strofe. Del resto Demi ha sempre avuto una voce perfetta per il registro alto, ma nel contempo pessima per quello basso. D' altro canto potremmo chiederci come Pink possa aver incluso una performance come quella di Justin Bieber (tra le peggiori, se non la peggiore vocalmente parlando) nella rosa dei "salvati".

I VMAs forse sono un posto più sexy e divertente, come dice Demi, ma vero è anche che questa è la sua nuova immagine, e lei stessa ha affermato di non voler più trattare temi impegnati con la sua musica (anche se nel nuovo album potrebbe sorprenderci da questo punto di vista), perciò che senso ha ribellarsi alle accuse di Pink?
Vi proponiamo un sondaggio…