Le Little Mix live al Today Show con "Shout Out To My Ex" (VIDEO)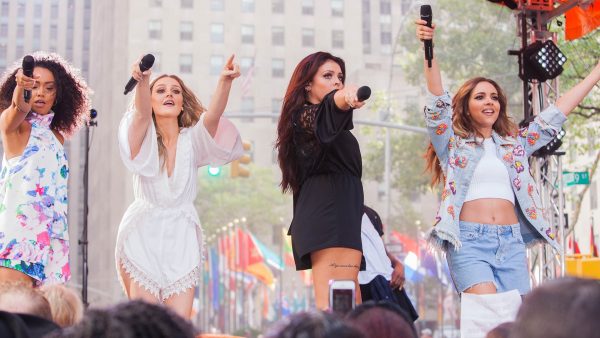 Ci siamo: a pochi mesi dalla fine dell'Era "Get Weird" (QUI per la recensione del disco), le Little Mix hanno già pubblicato un nuovo singolo che ha dato il via alla loro quarta Era discografica. Queste tempistiche, determinate probabilmente dal successo ottenuto dalle ragazze nella loro ultima Era (Get Weird è diventato il loro album di maggior successo in patria), hanno portato le Little Mix a pubblicare un nuovo album a circa un anno dal precedente, una scelta che ha mandato sicuramente in visibilio i loro giovani fan, che invece fra il secondo album ed il terzo avevano dovuto aspettare molto più tempo (QUI per tutte le info sull'album).
In un'intervista concessa al noto periodico The Sun, Perrie Edwards aveva lasciato chiaramente intendere che il loro nuovo album avrebbe contenuto una diss track nei confronti del suo ex fidanzato Zayn Malik (QUI per approfondire). Ebbene, ora che abbiamo modo di ascoltare il pezzo, possiamo confermare che si tratta a tutti gli effetti di un attacco all'ex One Direction, che sicuramente non tarderà a rispondere con qualche dichiarazione ad hoc.
Il brano è una potente up tempo pop dotata di una produzione dai tratti minimal ma che riesce a colpire l'ascoltatore, ad insinuarsi immediatamente nella sua mente, soprattutto nelle strofe, sicuramente la parte più forte del brano. Un attimino più banale il ritornello, ma comunque la traccia resta commercialmente molto valida, e sta ottenendo risultati molto buoni.
Rilasciato anche il dietro le quinte:
---
Ecco la performance delle ragazze al Today Show:
Testo
Testo SHOUT OUT TO MY EX Little Mix
[Verse 1: Perrie]
This is a shout out to my ex
Heard he in love with some other chick
Yeah yeah, that hurt me, I'll admit
Forget that boy, I'm over it
I hope she gettin' better sex
Hope she ain't fakin' it like I did, babe
Took four long years to call it quits
Forget that boy, I'm over it
[Pre-Chorus: Jade]
Guess I should say thank you
For the "hate yous" and the tattoos
Oh baby, I'm cool by the way
Ain't sure I loved you anyway
Go 'head, babe, I'mma live my life, my life, yeah
[Chorus: All]
Shout out to my ex, you're really quite the man
You made my heart break and that made me who I am
Here's to my ex, hey, look at me now
Well, I, I'm all the way up
I swear you'll never, you'll never bring me down
Shout out to my ex, you're really quite the man
You made my heart break and that made me who I am
Here's to my ex, hey, look at me now
Well, I, I'm all the way up
I swear you'll never, you'll never bring me down
[Verse 2: Jesy]
Oh, I deleted all your pics
Then blocked your number from my phone
Yeah yeah, you took all you could get
But you ain't getting this love no more
'Cause now I'm living so legit
Even though you broke my heart in two, baby
But I snapped right back, I'm so brand new, baby
Boy, read my lips, I'm over you, over you
[Pre-Chorus: Leigh-Anne]
Guess I should say thank you
For the "hate yous" and the tattoos
Oh baby, I'm cool by the way
Ain't sure I loved you anyway
Go 'head, babe, I'mma live my life, my life, yeah
[Chorus: All]
Shout out to my ex, you're really quite the man
You made my heart break and that made me who I am
Here's to my ex, hey, look at me now
Well, I, I'm all the way up
I swear you'll never, you'll never bring me down
Shout out to my ex, you're really quite the man
You made my heart break and that made me who I am
Here's to my ex, hey, look at me now
Well, I, I'm all the way up
I swear you'll never, you'll never bring me down
You'll never bring me down
[Bridge: Perrie & All]
Shout out to my ex, you're really quite the man
You made my heart break and that made me who I am
Here's to my ex, hey, look at me now
Well, I'm all the way up
I swear you'll never, you'll never bring me down
[Chorus: All & (Jade) & {Leigh-Anne} & (Perrie)]
Shout out to my ex, you're really quite the man
(You're quite the man)
You made my heart break and that made me who I am
Here's to my ex, hey, look at me now
Well, I, I'm all the way up, I swear you'll never bring me down
{You'll never bring me down}
Shout out to my ex, you're really quite the man
You made my heart break and that made me who I am
Here's to my ex, hey, look at me now
(Won't you just look at me now)
Well, I, I'm all the way up
I swear you'll never, you'll never bring me down
You'll never bring me down
[Outro: Jesy]
No
Traduzione
Traduzione SHOUT OUT TO MY EX Little Mix
Questo è un grido indirizzato al mio ex
Ho saputo che è innamorato di un'altra pollastrella
Sì sì, mi ha fatto male, lo ammetto
Dimentica quel ragazzo, io sono oltre
Spero che lei stia avendo sesso migliorare
Spero che lei non finga come facevo io, baby
Ci sono voluti quattro lunghi anni per farla finita
Dimentica quel ragazzo, io sono oltre
Penso che dovrei dire grazie
Per i "Ti odio" e tatuaggi
Oh baby, sto bene, a proposito
Non sono sicura di averti amato, in ogni caso
Vai avanti, baby, io vivrò la mia vita, la mia vita, sì
Grido al mio ex, sei proprio l'uomo
Che mi ha spezzato il cuore e che ha fatto diventare quella che sono oggi
Qui c'è il mio ex, ehi, guardami adesso
Beh, io sono lassù, in alto
Giuro che mai riuscirai a trascinarmi giù
Grido al mio ex, sei proprio l'uomo
Che mi ha spezzato il cuore e che ha fatto diventare quella che sono oggi
Qui c'è il mio ex, ehi, guardami adesso
Beh, io sono lassù, in alto
Giuro che mai riuscirai a trascinarmi giù
Oh, ho cancellato tutte le tue foto
Poi ho bloccato il tuo numero sul mio telefono
Sì sì, hai preso tutto quello che potevi avere
Ma non avrai più questo amore
Perché ora sto vivendo in maniera sana
Anche se hai spezzato il mio cuore in due, baby
Ma mi sono ripresa subito, io sono nuova, baby
Ragazzo, leggi il mio labiale, io sono oltre te
Penso che dovrei dire grazie
Per i "Ti odio" e tatuaggi
Oh baby, sto bene, a proposito
Non sono sicura di averti amato, in ogni caso
Vai avanti, baby, io vivrò la mia vita, la mia vita, sì
Grido al mio ex, sei proprio l'uomo
Che mi ha spezzato il cuore e che ha fatto diventare quella che sono oggi
Qui c'è il mio ex, ehi, guardami adesso
Beh, io sono lassù, in alto
Giuro che mai riuscirai a trascinarmi giù
Grido al mio ex, sei proprio l'uomo
Che mi ha spezzato il cuore e che ha fatto diventare quella che sono oggi
Qui c'è il mio ex, ehi, guardami adesso
Beh, io sono lassù, in alto
Giuro che mai riuscirai a trascinarmi giù
Grido al mio ex, sei proprio l'uomo
Che mi ha spezzato il cuore e che ha fatto diventare quella che sono oggi
Qui c'è il mio ex, ehi, guardami adesso
Beh, io sono lassù, in alto
Giuro che mai riuscirai a trascinarmi giù
Grido al mio ex, sei proprio l'uomo
Che mi ha spezzato il cuore e che ha fatto diventare quella che sono oggi
Qui c'è il mio ex, ehi, guardami adesso
Beh, io sono lassù, in alto
Giuro che mai riuscirai a trascinarmi giù
Grido al mio ex, sei proprio l'uomo
Che mi ha spezzato il cuore e che ha fatto diventare quella che sono oggi
Qui c'è il mio ex, ehi, guardami adesso
Beh, io sono lassù, in alto
Giuro che mai riuscirai a trascinarmi giù