Joe Jonas parla di Nick Jonas e Selena Gomez, e della nascita dei DNCE
---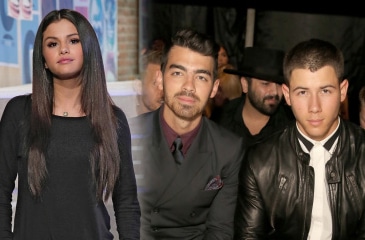 Joe Jonas attualmente in teoria non sta portando avanti la sua carriera da cantante solista. Il cantante è infatti impegnato nel ruolo di leader dei DNCE, gruppo che ha spopolato nelle classifiche di tutto il mondo con la grande hit "Cake By The Ocean", tuttavia ultimamente ci sembra stia tentando di nuovo di far concentrare l'attenzione mediatica su di sé più che sull'intero gruppo, questo nonostante i lavori sul loro debut album siano ancora in corso (QUI per approfondire).
E così, dopo le foto hot condivise (QUI e QUI per vederle), la chiacchierata hot in cui ha incluso anche suo fratello Nick (QUI per scoprire di cosa stiamo parlando) e l'apparizione da solo durante il joint tour del fratello Nick e di Demi Lovato, il "Future Now Tour" (trovate la performance QUI), Joe si concede anche un'intervista tutta da solo, con tanto di copertina della rivista in questione dedicata soltanto a lui. La rivista di cui parliamo è #Legend. Di seguito la copertina ed alcuni punti dell'intervista, ovviamente tradotta.
Sulla nascita dei DNCE:
Abbiamo fondato questa band senza sapere se ci sarebbe stato un EP o un album intero. Abbiamo creato alcune canzoni e avevano un sound davvero forte, soprattutto Cake By The Ocean,  che abbiamo rilasciato a tempo perso, per vedere cosa accadeva. La reazione è stata incredibile, e così ci siamo detti "dobbiamo creare nuova musica, e in fretta!" Così abbiamo pubblicato l'EP.
Sull'esperienza di opening act presso il "Revival World Tour" (QUI per le recensioni della critica sul tour, QUI per i risultati che sta ottenendo) ed il suo rapporto personale con Selena Gomez:
Il tour è stato divertente. Stare in tour insieme a degli amici rende tutto più facile. Spesso non è facile essere amici con gente che fa il tuo stesso lavoro, tuttavia io conosco Selena da quando eravamo bambini e si può dire che siamo cresciuti insieme.
Sul suo rapporto con il fratello Nick:
Avendo due vite colme di impegni capita spesso di non essere a casa insieme, ma è giusto: ognuno di noi deve avere il suo spazio. Penso che questo sia importante quando si hanno dei fratelli altrimenti si rischia di litigare spesso. Invece io e Nick passiamo il giusto tempo insieme, e ci piace. Ci supportiamo spesso a vicenda, e quando si parla di relazioni con ragazze l'uno chiede sempre all'altro "Non è che ci sei già uscito tu con questa ragazza?"
L'immagine che ne viene fuori è quella di un ragazzo normale che cerca di conciliare i suoi rapporti umani con il lavoro. Che ne pensate di questo modo di porsi?