Le 100 canzoni migliori e più belle del XXI secolo secondo la rivista Rolling Stone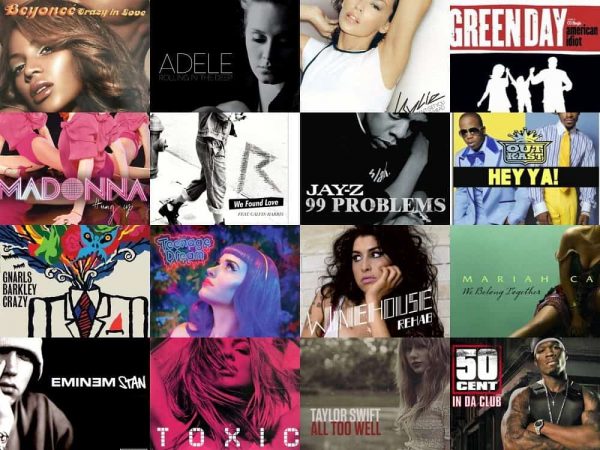 Scegliere le migliori 100 canzoni dal 2000 ad oggi è un'impresa alquanto difficile, per non dire impossibile…
e dopo aver letto questa classifica ne siamo ancora più convinti.
Rolling Stone USA si è cimentato nella coraggiosa impresa con l'aiuto di giornalisti, critici ed altri insiders dell'industria musicale.
Il risultato è una lista di di cento canzoni più o meno famose uscite negli ultimi anni tenute insieme da non si sa bene quale criterio, dal momento che per tutte non si può proprio parlare di qualità.
Probabilmente alcuni brani, al di là della posizione in cui sono stati inseriti in questa specifica top100, anche gran parte di noi li avrebbe considerati in una ipotetica classifica soggettiva delle migliori canzoni del secolo in corso.
Rehab di Amy Winehouse ad esempio, Beautiful Day degli U2 o Stan di Eminem, giusto per citarne tre.
Il problema nasce però quando alla 91 si trova una certa Despacito, che su decine di migliaia di singoli ascoltati negli ultimi 18 anni forse si meriterebbe di finire in un'altra speciale classifica, diametralmente opposta a questa. Per non parlare poi di Call Me Maybe di Carly Rae Jepsen alla 71, per carità, grande successo del 2012, ma come può finire un tale pezzo in una top100 denominata "Greatest Songs of the Century – So Far"?
Lo sconcerto aumenta scorrendo titolo dopo titolo, e addirittura alla 45 troviamo Justin Bieber con Sorry, tra Cry Me a River e la già citata Stan, che per lo meno è un gradino sopra. Piccola consolazione.
Da dire ce ne sarebbero tante e intendiamoci, qui non si tratta assolutamente di andare contro agli artisti (la maggior parte dei quali apprezziamo), ma è innegabile che tra queste 100 scelte se ne salvino gran poche. Stimiamo e supportiamo Beyoncé,
…ma come può Crazy In Love essere definita la miglior canzone del XXI secolo?
Il nostro pensiero è chiaro. Vi lasciamo comunque la top100 completa, e attendiamo il vostro parere:
100. "Gasolina" – Daddy Yankee feat. Glory
99. "Int'l Players Anthem (I Choose You)" – UGK feat. Outkast
98. "Archie, Marry Me" – Alvvays
97. "1901" – Phoenix
96. "Tighten Up" – The Black Keys
95. "Can't Get You Out of My Head" – Kylie Minogue
94. "Jesus Walks" – Kanye West
93. "I'm Not Okay (I Promise)" – My Chemical Romance
92. "Stoned and Starving" – Parquet Courts
91. "Despacito (Remix)" – Luis Fonsi feat. Daddy Yankee and Justin Bieber

90. "1 Thing" – Amerie
89. "Hate to Say I Told You So" – The Hives
88. "Hannah Hunt" – Vampire Weekend
87. "We Belong Together" – Mariah Carey
86. "I Love It" – Icona Pop w/Charli XCX
85. "My Shot" – Original Broadway Cast of 'Hamilton'
84. "One More Time" – Daft Punk
83. "Lost Cause" – Beck
82. "New Slang" – The Shins
81. "Hollaback Girl" – Gwen Stefani

80. "Ante Up (Robbin-Hoodz Theory)" – M.O.P.
79. "Drop It Like It's Hot" – Snoop Dogg feat. Pharrell
78. "Young Folks" – Peter Bjorn and John
77. "Losing My Edge" – LCD Soundsystem
76. "Get Lucky" – Daft Punk feat. Pharrell Williams
75. "The House That Built Me" – Miranda Lambert
74. "Letter From an Occupant" – The New Pornographers
73. "House of Jealous Lovers" – The Rapture
72. "Bad and Boujee" – Migos feat. Lil Uzi Vert
71. "Call Me Maybe" – Carly Rae Jepsen

70. "American Idiot" – Green Day
69. "Thinkin Bout You" – Frank Ocean
68. "Springsteen" – Eric Church
67. "What You Know" – T.I.
66. "Beez in the Trap" – Nicki Minaj feat. 2 Chainz
65. "We Found Love" – Rihanna feat. Calvin Harris
64. "DNA" – Kendrick Lamar
63. "Sugar, We're Goin Down" – Fall Out Boy
62. "Teenage Dream" – Katy Perry
61. "Hung Up" – Madonna

60. "The Wire" – Haim
59. "Bodak Yellow" – Cardi B
58. "Ni**as in Paris" – Jay-Z and Kanye West
57. "Do You Realize??" – The Flaming Lips
56. "Weird Fishes/ Arpeggi" – Radiohead
55. "212" – Azealia Banks feat. Lazy Jay
54. "Portions for Foxes" – Rilo Kiley
53. "Oblivion" – Grimes
52. "Chandelier" – Sia
51. "Single Ladies (Put a Ring on It)" – Beyoncé

50. "The Scientist" – Coldplay
49. "Sign of the Times" – Harry Styles
48. "Happy" – Pharrell William
47. "Redbone" – Childish Gambino
46. "Cry Me a River" – Justin Timberlake
45. "Sorry" – Justin Bieber
44. "Stan" – Eminem
43. "Cranes in the Sky" – Solange
42. "Electric Feel" – MGMT
41. "Hurt" – Johnny Cash

40. "Beautiful Day"- U2
39. "No One Knows" – Queens of the Stone Age
38. "Formation" – Beyoncé
37. "You Want It Darker" – Leonard Cohen
36. "Gold Digger" – Kanye West feat. Jamie Foxx
35. "Blue Jeans" – Lana Del Rey
34. "Mr. Brightside" – The Killers
33. "Idioteque" – Radiohead
32. "In Da Club" – 50 Cent
31. "Wake Up" – Arcade Fire

30. "Mississippi" – Bob Dylan
29. "All Too Well" – Taylor Swift
28. "Umbrella" – Rihanna feat. Jay-Z
27. "B.O.B." – Outkast
26. "Hotline Bling" – Drake
25. "Uptown Funk" – Mark Ronson and Bruno Mars
24. "Lose Yourself" – Eminem
23. "Ms. Jackson" – Outkast
22. "Take Me Out" – Franz Ferdinand
21. "Bad Romance" – Lady Gaga

20. "Rehab" – Amy Winehouse
19. "Dancing on My Own"-  Robyn
18. "Blackstar" – David Bowie
17. "Work It" – Missy Elliott
16. "All My Friends" – LCD Soundsystem
15. "Crazy" – Gnarls Barkley
14. "Toxic" – Britney Spears
13. "Alright" – Kendrick Lamar
12. "Get Ur Freak On"- Missy Elliott
11. "Since U Been Gone" – Kelly Clarkson


5. "99 Problems" – Jay-Z


4. "Hey Ya!" – Outkast


3. "Seven Nation Army" – The White Stripes


2. "Paper Planes" – M.I.A.


1. "Crazy in Love" – Beyonce feat. Jay-Z