Lana Del Rey – Honeymoon | Recensione Album
Dopo poco più di un anno dalla sua ultima fatica discografica, Lana del Rey è tornata a placare la fame dei numerosi fan che letteralmente si nutrono del suo sadcore (e io ammetto fin da subito di essere uno di questi).
Honeymoon è il titolo del nuovo progetto di Lizzie Grant aka Lana del Rey. Rilasciato il 18 Settembre, l'album è stato anticipato da diversi singoli promozionali che hanno già potuto farci apprezzare l'anima di Honeymoon: la titletrack "Honeymoon", "Terrence Loves You", "Music To Watch Boys To" ed infine il vero primo singolo che fa da traino al progetto, l'ipnotica "High By The Beach".
Lo so, l'album è ormai uscito da più di un mese, ma confesso che c'è voluto del tempo per digerirlo e poter scrivere una recensione un po' più accurata.
Devo ammettere che già dall'ascolto di questi buzz singles gli ascoltatori si sono subito divisi in due categorie: quelli che speravano che l'album mantenesse interamente la direzione intrapresa da questi pezzi, ed altri che speravano che brani come Honeymoon e Terrence Loves You – di forte impatto emotivo, ma forse per l'ascoltatore medio un po' troppo "mosci"-  fossero unici nel loro genere in un progetto ben più variegato, ritmato e con perle squisitamente pop.
E qui arriviamo al dunque. Qual è la fazione, tra le due, ad averla spuntata? Tenterò di accompagnarvi in una recensione track by track di Honeymoon il più oggettiva possibile, che possa suscitare in voi la voglia di ascoltarlo o la definitiva decisione di risparmiarvelo (a seconda dei vostri gusti), per poi darne un mio giudizio complessivo. Buona lettura!
Honeymoon: non possiamo dire che il succo dell'album si faccia attendere. La title track parte subito con un ensemble romantico e straziante di delicati violini, che servono l'attacco ad una Lana in forma smagliante. Prende lentamente forma una produzione in pieno stile hollywoodiano di metà anni '60 e il brano si muoverà interamente su queste lunghezze.
Ai primi ascolti la melodia è difficilmente definibile, pare piuttosto irregolare e straniante, cosa che con gli ascolti successivi si rivela assolutamente non vera. Il brano entra in testa, eccome. Nettamente migliori le strofe rispetto al ritornello, il quale si muove su una ripetizione ossessiva che, personalmente, non amo molto ("Our honeymoon, our honeymoon, say you love me too").
Lo special del brano rompe un po' lo schema e ci riporta improvvisamente alla Lana di Young and Beautiful, che in questo album appare poco e niente.
Music To Watch Boys To: incipit polifonico a cappella per il secondo singolo ufficiale, che lascia poi spazio ad una ritmica leggermente più marcata e sonorità arabeggianti. Il brano non brilla in quanto ad originalità, ma è forse fra i pezzi più "vivi" dell'album. Anche in questo caso manca il ritornello forte che tutti aspettiamo dopo le strofe accattivanti: ripetizione di melodia e fraseggio troppo marcate. Un po' piatta.
Terrence Loves You: lo dico subito, stiamo per parlare di quello che per me è il brano più bello che Lana del Rey abbia mai scritto. "You, uh uh, ah, are, what you are" sono le prime lyrics del pezzo cantate con maestria da Lana ed è già esplosione emozionale.
L'andamento cantilenante ma delicatamente struggente pone le basi a questo brano da brivido che si snoda fra l'omaggio citazionistico a David Bowie (riecheggia il "Ground control to Major Tom" da Space Oddity di David Bowie, frase che Lana utilizza in questo pezzo) e la dedica ad una storia famigliare, quella fra David, appunto, e il suo fratellastro Terry.
Il picco emotivo si raggiunge al ritornello: "I lost myself when I lost you". Ed è già pelle d'oca. Lo special è anche qui molto più pop rispetto al resto del pezzo, anche se in questo caso non lo definirei esattamente un pregio. Sei riuscita a fare un bel pezzo "alternativo" senza però cadere nel noioso/melenso? Bene, lascialo tale.
La Del Rey l'ha definito un brano molto "jazzy", anche se di Jazz ha poco o nulla. Ma ciò non sminuisce il piccolo gioiellino che è. Non mi dilungo ulteriormente su questo brano, ascoltatelo.
God Knows I tried: la prima volta che ho ascoltato l'album, arrivato a questo punto ero già pronto a gridare al capolavoro. La track 4 è bella e coinvolgente, con un ritornello davvero efficace e orecchiabile, pur non essendo assolutamente ingabbiabile nel genere commerciale. Ci troviamo di fronte ad un'altra ballad con una propria anima e precisa identità, che potrebbe tranquillamente fare da colonna sonora ad un film western un pizzico datato.
High By the Beach: il primo singolo che conosciamo tutti. Torna finalmente la Lana che "dondola" su arrangiamenti venati di Hip Hop e canta ritornelli altamente ipnotici e orecchiabili. Rimembranze di Diet Mountain Dew. Forse un pelo troppo ripetitiva.
Freak: tenete ben presente che quando userò il termine "movimentato" nel descrivere le tracce di questo album, intendo tutto fuorché qualcosa di REALMENTE movimentato. Freak è un lentone come tutti gli altri brani, ma avendo delle percussioni udibili dall'orecchio umano ed un ritmo più cadenzato la definirò "movimentata"!
Scherzi a parte, la sesta traccia è forse la più amata dai fans del web, anche se non capirò mai perché. Il brano è interamente sussurrato, piuttosto monocorde, manca di mordente. Se pure sia apprezzabile il tentativo di creare qualcosa di "catchy", manca di forza. L'atmosfera molto cupa viene smorzata dallo special, anche qui molto più classico che nel resto del pezzo, che fa recuperare qualche punto.
Art Deco: è bellissimo il fatto che pur restando sempre nelle sue "lagne" (perdonate il termine), ogni brano di questo album assuma un'identità assolutamente propria. Qui la sfumatura è più synth e elettronica, quasi psichedelica. Il brano perde però, secondo me, nella melodia principale. Anche qui il rischio di cadere irrimediabilmente nella noia è altissimo.
Burnt Norton (Interlude): questo interlude è (come quasi tutti gli interlude) un intermezzo parlato su sottofondo musicale, uno "spezza-album" e come tale non lo recensirò.
Religion: Lana cerca di tornare ad accontentare un po' i fan di Born to Die, con ritornelli efficaci e ritmiche più scandite. Ci riesce? Non propriamente. Religion è un brano che non lascia il segno e la causa è da attribuire soprattutto ad un post-ritornello che, come spesso accade alla Del Rey, si sciupa in un uso eccessivo di lunghi vocalizzi che fanno un po' perdere il focus: "Halleeeelujah, I neeeeeeed your love". Troppo Lana, troppo.
Salvatore: finalmente si risollevano le sorti dell'album, con questo brano d'italica ispirazione. "Salvatore" è strana, come spiegarlo? E' un lento, ma alle mie orecchie sembra un pezzo fresco, catchy, movimentato. E' triste triste, ma nella mia testa suona come un pezzo allegro. Ha un testo trashissimo ("ahhh cacciatore, ahhhh soft ice cream") ma sembra un bel brano di quelli seri, quasi d'autore.
Sono pazzo? Può darsi, ma trovo che l'orecchiabilità di "Salvatore" e il fatto di essere un pezzo originale, sui generis,  sia un grande pregio. Candidata ad essere singolo, subito. Però attenzione alle assonanze melodiche e testuali con una certa "Aah, Aah, America, Americano"!
The Blackest Day: ci avviciniamo alla fine dell'album e la stanchezza inizia a farsi sentire. Questa "The Blackest Day" ha un ritornello particolare, con un avvicendarsi di accordi davvero poco usuale ed originale. Il problema è che è molto difficile capirla ai primi ascolti.
Anche qui la tensione crolla nel post-rit ("I'm going deeper and deepeeeeeer, harder and hardeeeeer"): te prego Lana, anche basta. Ovviamente sono ironico: questo tipo di vocalizzi disturba me,  ma magari a qualcuno piacciono molto. Io ve li riporto soltanto, perché non passano inosservati.
24: "There's only 24 hours, in a day."
Dopo questo colpo di genio targato del Rey (scherzo, il testo è forse uno dei miei preferiti, merita attenzione) vediamo già davanti a noi il mirino di James Bond. Cinematografica, scenica, originale e bella, peccato davvero che non sia stata utilizzata come colonna sonora perché avrebbe avuto forti possibilità di essere notata.
La canzone trasmette una sorta di suspance, sospensione ottenuta grazie ad un sapientissimo balancing di testo e melodia che conferisce, come accade raramente, un senso di compiutezza e di concettualità. Complimenti, Lizzie.
Swan Song: lo stesso senso di straniamento provato all'ascolto del ritornello di "The Blackest Day" lo si ritrova nel ritornello di "Swan Song", ma qui è ancora aumentato. Ammetto di non essere riuscito ancora, dopo un mese, ad inquadrare questo pezzo, perciò non mi dilungo sulle "caratteristiche tecniche". Piuttosto, pongo l'attenzione sul fatto che è indubbiamente un pezzo che incuriosisce sempre più e non stanca. E questo è un gran pregio.
Don't let me be misunderstood: l'ultimo pezzo e sì, è proprio lei, cover del classico del 1977 firmato Santa Esmeralda. Che dire in proposito? Cover a mio parere evitabilissima, che non aggiunge nulla ad un pezzo sentito già in mille altre salse. L'unica personalizzazione fatta da Lana è data dal suo apporto vocale e da un numero di BPM notevolmente più basso dell'originale. Non riesco a dare una valutazione più articolata.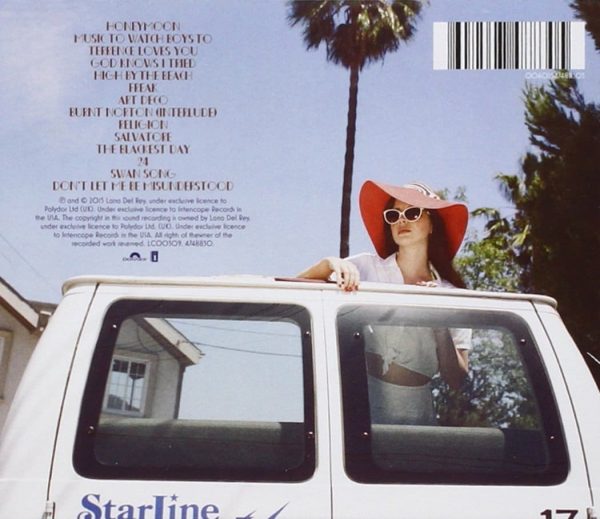 Come avrete potuto capire già dai miei giudizi, la "fazione" che è stata accontentata maggiormente è quella composta dai fan che speravano nella continuazione dell'Ultraviolence style. O almeno così parrebbe ad un ascolto superficiale.
In realtà Honeymoon va ascoltato attentamente e più volte, per entrarvi sempre più nel profondo e scoprire con piacere che ogni singolo pezzo ha in fondo una sua chiave di lettura pop e un certo grado di orecchiabilità. Ogni brano si maschera da "vecchio", obsoleto, noioso, pur non essendo assolutamente così per un orecchio più attento. E questo mi porta a collocarlo come una sana fusione dei suoi precedenti due lavori.
E' proprio questa la croce e la delizia di Honeymoon: si tratta di un concept album davvero notevole, ma con dei lati oscuri, non bene a fuoco, i quali lo rendono per forza di cose un prodotto elitario. Non nel senso che occorrono chissà quali competenze per apprezzarlo, semplicemente va approfondito e a quel punto diventa un gioiello. Il problema è che ci vogliono davvero tanta forza e voglia per ascoltare questo album a ripetizione. Causa? Noia.
E' vero che poi la noia si trasforma in "gioia" quando l'album viene compreso, ma quello che voglio dire è che, secondo me, è difficile trovare qualcuno che abbia la motivazione di immergervisi profondamente quanto Honeymoon richiederebbe, fan sfegatati a parte. E' una pretesa troppo grande.
E' davvero apprezzabile, specie nell'ambito dell'industria musicale odierna, il fatto che dopo il boom di Born to Die Lana del Rey abbia deciso di fare ciò che più le piace, senza paletti o costrizioni; chapeau per questo. Ma in una certa misura, seppur piccolissima, un artista di un certo calibro dovrebbe pensare anche a chi lo ascolta, lo segue e lo finanzia.
Per cui, Honeymoon: concept album davvero ben riuscito, coerente, coeso, produzione da sballo, ottimi testi e bellissima performance vocale, ma era così difficile inserire una e una sola canzone che potesse avere reali possibilità di buon riscontro commerciale? O almeno, se c'è da essere alternativi, perché non alternare pezzi puramente indie ad altri dall'animo più palesemente pop, anziché fare un miscuglio delle due cose con risultati non sempre così buoni?
E dopo queste domande che mi tediano da quasi un mese, vi lascio.
Voi che ne pensate? Aspettiamo i vostri commenti!