Rihanna: confronto tra i suoi album + vota il tuo preferito
(introduzione a cura di R&B Junkie, corpo dell'articolo a cura di Veronica Gurguis).
In un epoca di rivoluzioni nel mondo della musica, quando già il digitale predominava, Rihanna è una delle poche artiste che sono riuscite ad affermarsi in maniera incisiva! Nell'arco di questi 10 anni di musica, la cantante dalle modeste origini barbadiane, è riuscita a pubblicate ben sette album, con un ottavo progetto in lavorazione, e forse il primo progetto che la vede incontrare qualche difficoltà a livello promozionale e di vendita (ovviamente ci basiamo solo sui singoli rilasciati sino ad oggi).
Accusata spesso di avere pochi talenti artistici, Rihanna non si è mai arresa, ha puntato molto sulla sua immagine, sulla scelta dei collaboratori più giusti, ed ha cercato di migliorare anche sotto l'aspetto vocale, il suo vero tallone d'Achille. Il suo è un successo che ha cominciato a diventare imponente dal terzo album "Good Girl Gone Bad", un vero disco trend-setter della musica Pop, che le ha fruttato diverse hits: 2 canzoni numero 1, 3 Top10 hits, e una Top20 hit.
Rihanna ci è finita un po' per caso nel musicbiz, ed ha dovuto davvero tirare fuori il carattere per sopravvivere, anche perché la sua label, appena si era accorta del potenziale e dell'appeal di Rihanna sul pubblico, l'ha praticamente costretta a sfornare un album dopo l'altro! Negli ultimi anni le cose sembrano cambiate, ma ora noi analizzeremo il prodotto di tale intensissimo lavoro.
Incominciamo dal primo album "Music Of The Sun", uscito nel 2005 sotto la Def Record Jem. La cantante per il titolo dell'album si ispirò al suo Paese d'origine, le Barbados, in cui il sole è una componente fondamentale, onnipresente in tale luogo. Inoltre spiegò che l'album è un'insieme di canzoni che racchiudono la sua origine caraibica.
Il disco è formato da 13 canzoni, la maggior parte scritte dai produttori con cui Rihanna aveva lavorato prima che firmasse il contratto: Rogers e Sturken.
Il tema principale è l'amore: che sia felice come in " If It's Loving That You Want" e "Let Me" o triste come in " Now I Know", "The Last Time". La cantante si fa anche femme fatale in " Willing To Wait" in cui Rihanna chiede al suo partner di andarci piano.  Ci sono solo 2 canzoni che parlano di altro: "Pon De Replay", in cui Rihanna chiede al dj di mettere la propria canzone preferita, e "Music Of The Sun", in cui invece la cantate invita tutti a lasciarsi andare al ritmo della musica.
Il sound dell'album è un misto tra influenze caraibiche come in "Music Of The Sun" e "The Last Time" e rnb come in " There's A Thug In My Life", That La la la", "Let Me" e "Willing To Wait", con qualche canzone dalle venature dance-pop come "Pon De Replay", "If Loving Is All Tht You Want". La vocalità di Rihanna era ancora acerba, ma si sente comunque una certa padronanza a livello interpretativo.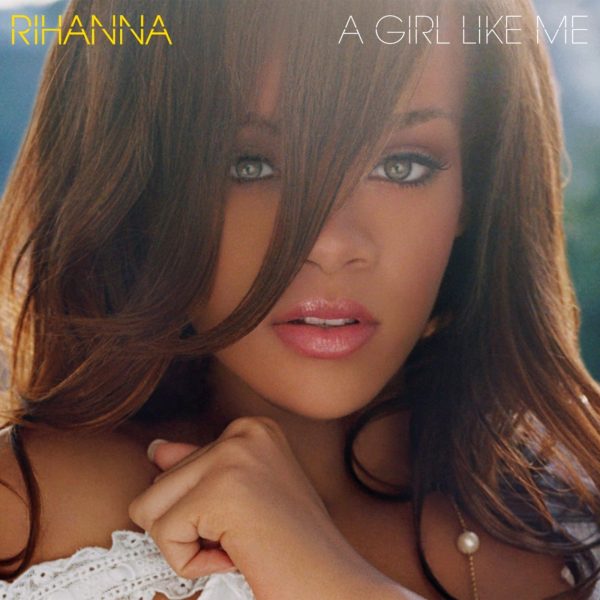 A neanche un anno dal primo album  esce "A Girl Like Me',' che non si differenzia molto dal precedente album: Rihanna stava ancora cercando il suo stile, ma troviamo comunque alcune differenze. A differenza del predecessore, questo disco sta a cuore a Rihanna e lo descrive come molto speciale.Come nel precedente sono presenti alcuni duetti: Dwane Husbands, J-Status, Sean Paul e Cory Gunz in una nuova versione di If Lovin Is All That You Want
Il disco è formato da 13 canzoni: ancora una volta troviamo Rogers e Sturken come i principali autori. Con loro anche Rihanna ha co-scritto 3 canzoni. Il tema principale dell'album è ancora l'amore, sono molte le canzoni che esprimono il disinnamoramento o problemi di cuore come "Unfaithull' che parla di n tradimento da parte di lei, "Final Goodbye", parla di come la cantante nasconda un grande segreto al suo amore, "Million Miles Away" in ci  si nasconde comunque un accenno di speranza e "We Ride" in cui la cantante elenca solo cose negative vissute in questo rapporto.
Ci sono ancora 2 canzoni che parlano di un altro argomento: la title track "A Girl Like Me" in cui Rihanna chiede a delle ipotetiche ragazze se volessero essere come lei e "Dem Haters" ,un invito a non farsi sottomettere dagli haters
Il sound del disco non si discosta molto dal precedente, essendo stato registrato durante la promozione di Music Of The Sun, e si sente ancora l'influenza di quest'ultimo e delle sue origine caraibiche. Ma nonostante ciò si avverte una piccola crescita e un certo impegno nel creare dei sound non tanto banali.
Come abbiamo già detto, ci sono canzoni dalle sfumature caraibiche come " Kisses Don't Lie" e "Dem Haters" che quasi si assomigliano, poi anche " Crazy Little Thing Called Love". Abbiamo poi canzoni un po' più ritmate tendenti alla dance-pop " SOS" e "Break It Off", altre dalla venatura rnb come "We Ride" e le ballate: "Unfaithfull", "Fina Goodbye", PS I'm Not Over You. La voce di Rihanna risalta soprattutto nelle ballate in cui un sound più scarno riesce a valorizzare molto il suo bel timbro.
Passa ancora un altro anno ed esce "Good Girl Gone Bad", l'album di svolta della cantante che le permette di affermarsi a tutti gli effetti come popstar. Rihanna fece tanti cambiamenti partendo dal look, capelli neri e corti a caschetto (poi tagliati ancora più corti) e un'immagine più sexy.
Con quest'album Rihanna oltre ai suoi fedeli collaboratori Sturken e Rogers, lavora con nuovi produttori tra cui Timbaland, Justin Timberlake, Nash per citarne alcune. Ancora una volta sono presenti 4 duetti, sempre con personalità maschili: Jay z, Ne-Yo , Justin Timberlake e Adam Levine. L'album è composto a 15 tracce: quasi tutte sono scritte dai produttori/autori citati sopra, e Rihanna non ha partecipato in alcun modo alla composizione.
Ovviamente, in quanto ai temi non si discosta molto dai precedenti due lavori: si parla ancora d'amore, ma in una maniera più matura e soprattutto si inizia a parlare di sesso come in "Push Up On Me", "Breaking Dishes" e "Question Existing". Le tracce d'amore si dividono tra quelle felici come , "Say It" e "Sell My Candy" e quelle tristi come "Take A Bow", "Hate That I Love You" , 'Rehab" , queste ultime 2 sono molto incoerenti dato che parlano di sentimenti contrastranti misto tra odio e amore e infine abbiamo "If I Never See Your Face Again" che segue un po' la scia delle 2 citate prima ma in una chiave più aggressiva e menefreghista.
Qui sono 3 le canzoni che parlano d'altro: "Umbrella", che è un brano sull'amicizia, "Don't Stop The Music", in cui si incita il dj a non fermare la musica e "Good Girl Gone Bad" che affronta una tematica molto importante per le donne: l'indipendenza e non essere solo 'la donna di'.
Il sound del disco è un'evoluzione rispetto ai primi due: le influenze caraibiche sono sparite per dare più spazio all'rnb in tracce come"Hate That I Love You", "Rehab", "Take A Bow" "Say It" e "If I Never See Your Face Again", che presenta qualche venature funky . Poi troviamo canzoni dance/electro-pop come "Don't Stop The Music" e "Disturbia" e una new wave con sfumature pop-rock, "Shut Up And Drive".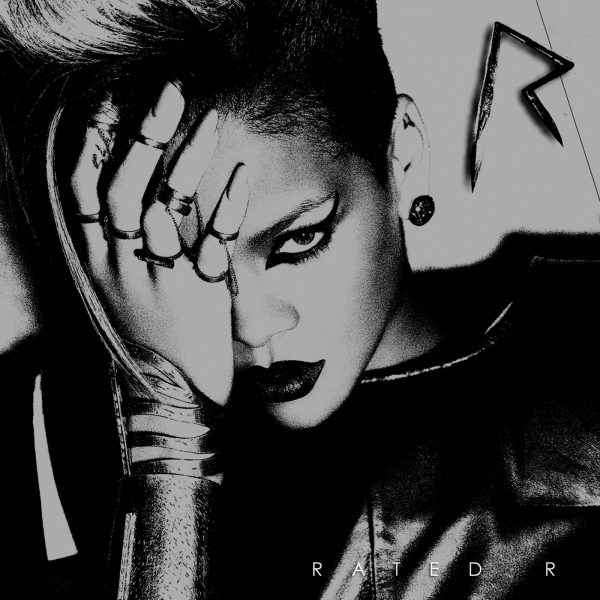 Nel 2009 esce il quarto album, "Rated R"' che segna la maturità della cantante e una svolta completamente opposta rispetto ai precedenti dischi. Mentre questi erano caratterizzati da tante uptempo vivaci, in "Rated R" troviamo un lato più 'oscuro' di Rihanna dato che l'ispirazione delle canzoni è l'ex Chris Brown.
Per questo disco Rihanna ha più controllo creativo diventando una degli executive producer insieme a Antonio L.A. Ried e i fedeli Sturken e Rogers, Justin Timberlake, Ne-Yo e Stargate. Vi ad altri nuovi come Will.I.Am e Tricky Stewart. L'album è composto da 13 canzoni e Rihanna risulta coautrice in ben 9 tracce.
Quest'album si concentra principalmente sulla relazione conclusa con Chris Brown, alcune delle quali fanno riferimento alla violenza subita come: '' Russian Roulette'', "The Last Song" '' Stupid In Love', ''Firebomb''' e ''Cold Case Love'', quest'ultima  in una maniera più specifica. Poi ne parla in una maniera più nostalgica in''Photographs''. ''Rude Boy'' è invece più spensierata e presenta un testo abbastanza esplicito. A concludere il cerchio c'è ''Te Amo'' che tratta invece un amore tra 2 donne.
Gli altri temi sono: il desiderio di Rihanna di manifestare la bad girl che è in lei ('' Rockstar 101''), l'essere la migliore in ciò che fa in "Hard". Il sound del disco si discosta completamente dai precedenti album: sicuramente un salto di qualità rispetto al solito e già sentito pop'n'b .Sono presenti tante influenze tra cui il dubstep in canzoni come " Hard", "G4L", "Wait Your Turn" e la intro "Mad House", troviamo anche molti assoli di chitarra specialmente in " Rockstar 101", in cui a eseguirlo è il mitico chitarrista Slash.
Ma Rihanna non vuole abbandonare completamente le sue origine caraibiche e lo sentiamo nei brani "Rude Boy" e "Te Amo". L'ultima soprattutto si avvicina ad alcune canzoni dei primi 2 album come struttura del sound. In questo disco si inizia a sentire la bellezza e unicità dl suo timbro che viene usato con sfumature diverse, sempre migliori nei lenti che nelle tracce movimentate.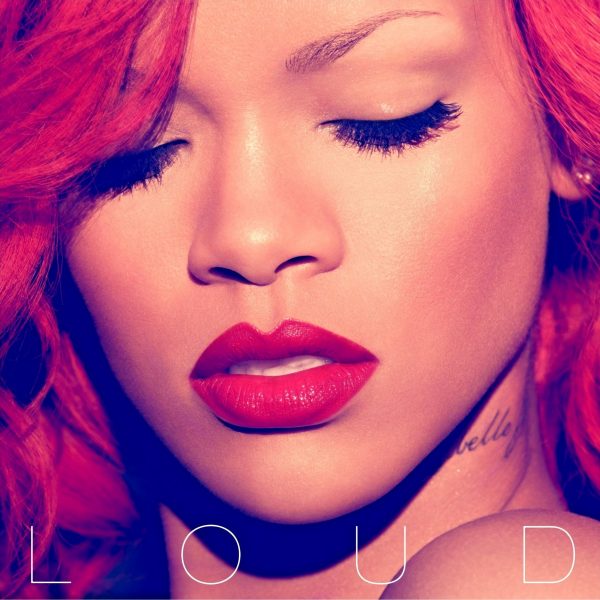 Un anno dopo esce il quinto album"Loud", completamente opposto al precedente, che non aveva fatto faville in classifica. Quest'album segna il ritorno della Rihanna dominatrice delle charts. Anche per quanto riguarda il look, Rihanna decise di cambiare sfoggiando una folta chioma rossa perfetta per il tipo di album che stava promuovendo: solare, energico formato principalmente da uptempo con qualche ballata. Una sorta di Good Girl Gone Bad, ma di un altro livello.
Per questo disco, la cantante decide di lavorare con molti produttori nuovi tra cui Kuk Harrell che produce la maggior parte delle canzoni, The Runners e Alex Da Kid. Si ripresentano i duetti: uno con Drake, uno con Nicki Minaj e un altro con Eminem nella seconda versione di "Love The Way You Lie". E' composto da 11 tracce e questa volta la cantante non ha partecipato alla stesura di alcun testo. Il tema principale è ancora l'amore, ma non quello Rated R ma uno più classico: troviamo infatti molte canzoni felici come "Only Girl" e "What's My Name".
Sono presenti poi "Skin", in cui Rihanna si riferisce a una relazione prettamente carnale e passionale, "Californi King Bed", in cui la cantante afferma di non volere completamente rinunciare a una relazione apparentemente conclusa, "Love The Way You Lie", in cui parla di un amore sbagliato che non riesce a sbarazzarsi perché le piace così com'è ed "S&M", un'ode al sesso violento.
Ci sono poi "Complicated" e"Fading", che parlano ancora di un amore sbagliato o finito, ma sono presenti anche altri temi: la storia di una donna che uccide un uomo per poi pentirsene in "Man Down" e il divertimento in "Cheers".
Se il precedente album era coeso, in Loud troviamo invece tanti sound diversi: electro/dance-pop di "S&M", "Only Girl" e "Complicated", rnb in " What's My Name",  rnb/hip-hop in"Love The Way You Lie" e "Raining Men" e pop-rock in "California King Bed". Troviamo ancora una traccia dal sound caraibico, "Man Down". La voce di Rihanna inizia a farsi più potente, non è più quella voce nasale dei primi lavori. Il suo timbro matura ogni giorno che passa, capace di regalare splendide interpretazioni.
Passa ancora un altro anno e Rihanna rilascia un album nuovo di zecca intitolato "Talk That Talk".Per quest'album, Rihanna lavora ancora con le stesse persone del precedente con l'aggiunta di Dr Luke e Calvin Harris. Il disco è composto da 14 tracce: Rihanna torna presenta nei credits come autrice in 5 canzoni.
A differenza del predecessore, qua troviamo molte canzoni che fanno riferimenti sessuali come in "Birthday Cake" e "Cockiness", "Roc Me Out" (in cui la cantante seduce il suo partner), "Watch N Learn" (in cui invece istruisce il suo innamorato su come dovrebbe amarla).
Le canzoni d'amore sono: "We Found Love", "Drunk On Love" , " Do Ya Thang"e You Da One" che parlano di un amore trovato, "Where Have You Been" in cui Rihanna è in cerca di una persona che possa amarla incondizionatamente. Rihanna parla anche di amori tristi come in "Farewell", in cui dice addio a una persona amata, o "Fool in Love" i cui dice ai proprio genitori di essere innamorata di questo presunto bad boy che loro temano. Infine troviamo "We All Want Love", un inno rivolto a tutti coloro che cercano l'amore.
A livello di sound il disco si discosta molto dal precedente, ci sono ancora canzoni electro/dance-pop come "Where Have You Been", "We Found Love" e canzoni rnb come "Talk That Talk", con varie tracce urban che tendono all'hip hop come "Birthday Cake".
Come molti album di Rihanna, troviamo molte influenze in una sola canzone ed è il caso di "You Da One" in cui vengono mischiati il pop e il dubstep. "Where Have You Been" è invece un mix di tecno, rnb, dance ed hip-hop. Il vero salto di qualità lo si avverte nelle ballad, molto più curate rispetto ai precedenti album, soprattutto in "Fool in Love" la cui struttura ricorda molto "Cold Case Love" per via dell'assolo di chitarra finale.
In questo disco la voce di Rihanna si sente in tutta la sua purezza nelle ballad, si percepisce una crescita notevole rispetto a qualche anno fa: c'è più controllo sia tecnico che emotivo.
E concludiamo con l'ultimo album uscito nel 2012 chiamato "Unapolegetic", un album personale a differenza dei precedenti due, che erano più simili a raccolte di canzoni che ad album. Per questo disco, Rihanna collabora ancora con vecchie conoscenze come Stargate, David Guetta, e The Dream, ma anche con altri completamenti nuovi come Mike Will Made It, Labirinth e Parker Ighile. Ancora una volta troviamo duetti, ancora con personalità maschili:  Eminem, Future, Chris Brown e Mikki Ekko.
L'album è composto da 15 tracce, Rihanna torna a essere una parte importante della composizione delle canzoni co-scrivendo ben 11 brani. L'amore è ancora il protagonista: troviamo canzoni aggressive come "What Now", in cui Rihanna si sente confusa per via del suo sentimento, ma anche canzoni romantiche come "Diamonds" "Stay" e "Loveee Song". C'è poi "Nobody's Buisness", che parla di una relazione di cui a nessuno dovrebbe importare, 'No Love Allowed", che parla di un amore che è più forte di qualsiasi cosa, e'Get It Over With", che parla invece della conclusione di una storia.
Troviamo anche altri temi: in " Phresh Out Off The Runaway", in cui la cantante si riferisce a chi non la rispetta di andarsene tranquillamente dalla sua vita, " Half Of Me" che parla di come la gente normale veda solo una piccola parte dei personaggi famosi,  e" Mother Mary" in cui Rihanna si rivolge a Dio e alla Madonna per un peccato commesso.
Il sound dell'album non si discosta molto dal precedente lavoro: sono ancora presenti canzoni dalle sfumature electro.pop come "Phres Off The Runaway", "Lost In Pradise"', canzoni rnb come "Loveee Song" e "Nobody's Business, urban come "Pour It Up" e canzoni dalle venature cariabiche come" No Love Allowed" .
Ancora una volta sono le ballate ad essere le tracce meglio sviluppate, specialmente " What Now" in cui vengono mischiati vari elementi dall'rnb, al dubstep fino a una splendida chitarra elettrica. "Diamonds" e "Half Of Me" si assomigliano fra di loro ed hanno il piano e i synths nel ritornello, "Stay" è dominata dal piano e infine " Love Without Tragedy/Mother Mary ha caratteristiche new wave miste all'elettronica.Anche in questo disco Rihanna mostra le sue capacità vocali ed interpretative, il suo timbro non è mai stato più bello di così.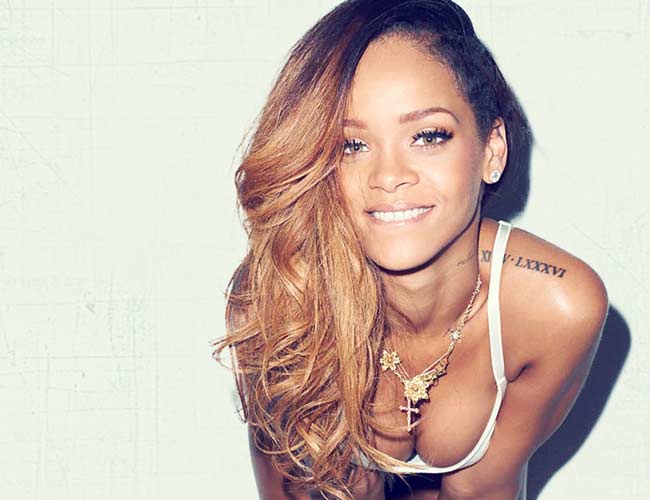 Vi riproponiamo di seguito un vecchio sondaggio già postato precedentemente che vi chiede di scegliere qual è il miglior album della popstar.